A recent article in Comstock's magazine brought into focus many of the water management tradeoffs that have emerged in the Sacramento Valley over the past decade. In Hiding in the Shallows,  Alastair Bland explores the changing agricultural landscape, particularly the conversion of traditional irrigation, such as flood, to drip and micro-jet irrigation.
The article reveals that, although there are certain efficiencies with the new irrigation systems, there are also consequences to the groundwater and the environment that need to be considered as part of sustainable water management. This is particularly true in a place like the Sacramento Valley, which is a flow-through water system, where the water used for farms, cities, wildlife refuges and fish are all sequential as water flows through the region. All water that is not used by people or plants in the watershed returns to the hydrologic system and funnels through the Sacramento River–just west of the City of Sacramento.
The article quotes extensively from hydrologist and water resources engineer Maurice Hall, who provided that "water wasted by flooding usually isn't really wasted. On their own land, it may appear lost, but from the perspective of the region or the water district, it's not lost." Rather most of the water that sinks past a tree's root zone and into the ground, or flows into streams, can be recovered by other farmers, cities or ecosystems.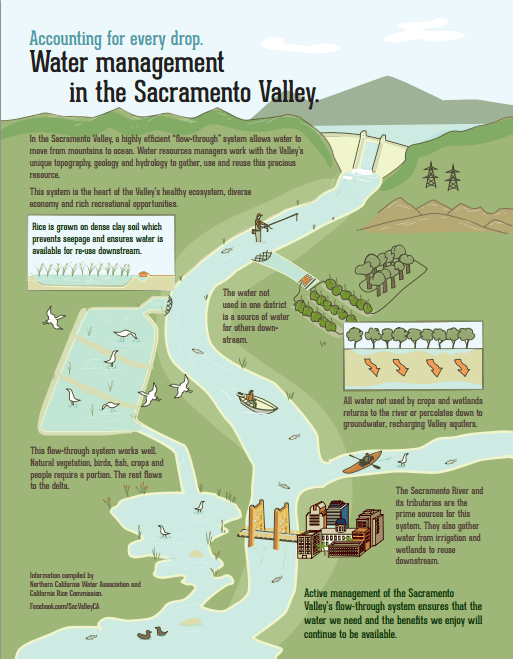 To better understand this dynamic, the water resources managers in the region commissioned a technical report in 2011 articulating Efficient Water Management for Regional Sustainability in the Sacramento Valley. The technical report, which brought together water management experts, provides a sophisticated foundation to initiate the process to evaluate improved water management opportunities in the Sacramento Valley and the trade-offs that will need to be considered in making future management decisions in this region. The report articulates a framework for addressing water use efficiency in the Sacramento Valley (given the Valley's unique hydrologic characteristics and existing condition), establishes a basis for assessing and identifying water use efficiency improvements, and provides a basis for constructive dialogue.
The report builds upon decades of continually improving water use efficiency in the Sacramento Valley at the farm, refuge, district, and basin level. Importantly, the report is part of our ongoing effort to seek broad input and rigorous discourse on water management in the Sacramento Valley and to continually improve our understanding and efforts to actively manage water resources in the region. The report recognizes that increased efficiency, if not carefully considered, can negatively affect important environmental habitat and groundwater resources in the region. The full report and summary is available at: Efficient Water Management.
A report on the Sacramento Valley Groundwater is available at: Sacramento Valley Groundwater Assessment.