As Sacramento Valley water resources managers look to serve multiple benefits in the future, the importance and need for Sites Reservoir emerges.
Sites Reservoir is an innovative 21st Century water project–an off-stream regulating reservoir on the west-side of the Sacramento Valley that can save water for the future by capturing water during high runoff, and then saving this water for various beneficial uses at a later time. By its location upstream of the Delta and near the Sacramento River, water in Sites reservoir could serve multiple benefits in the Sacramento Valley, as well as the Delta and the rest of the state.

For the context in which Sites Reservoir emerges, California has 39 million people and a spectacular landscape supporting various other species–all of which depend upon a managed water system to help provide drinking water and other domestic uses, the most diverse and high-quality food grown anywhere in the world, the cold water and habitat for fish, and habitat for birds along the Pacific Flyway. The 2012-2016 drought and a changing climate have reinforced that for all of these multiple beneficial uses to thrive in California, we need smart and robust surface water storage throughout California.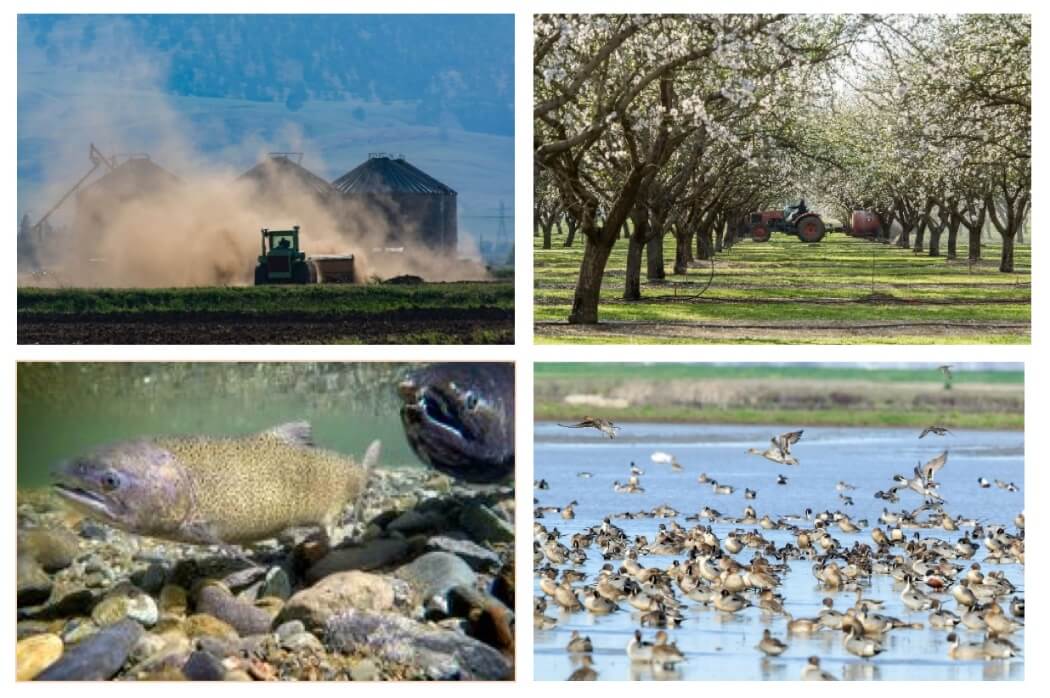 One of the best opportunities to re-imagine our water system in the 21st Century and add value to our current water system is the proposed Sites Reservoir, which will provide high-quality water to enhance the environment, the economy and quality of life for Californians. To help advance this effort, the leaders in the Sacramento Valley came together in 2010 to form the Sites Project Authority, building on the earlier work by the Department of Water Resources and the Bureau of Reclamation. More detailed information is available from the Sites Project Authority website.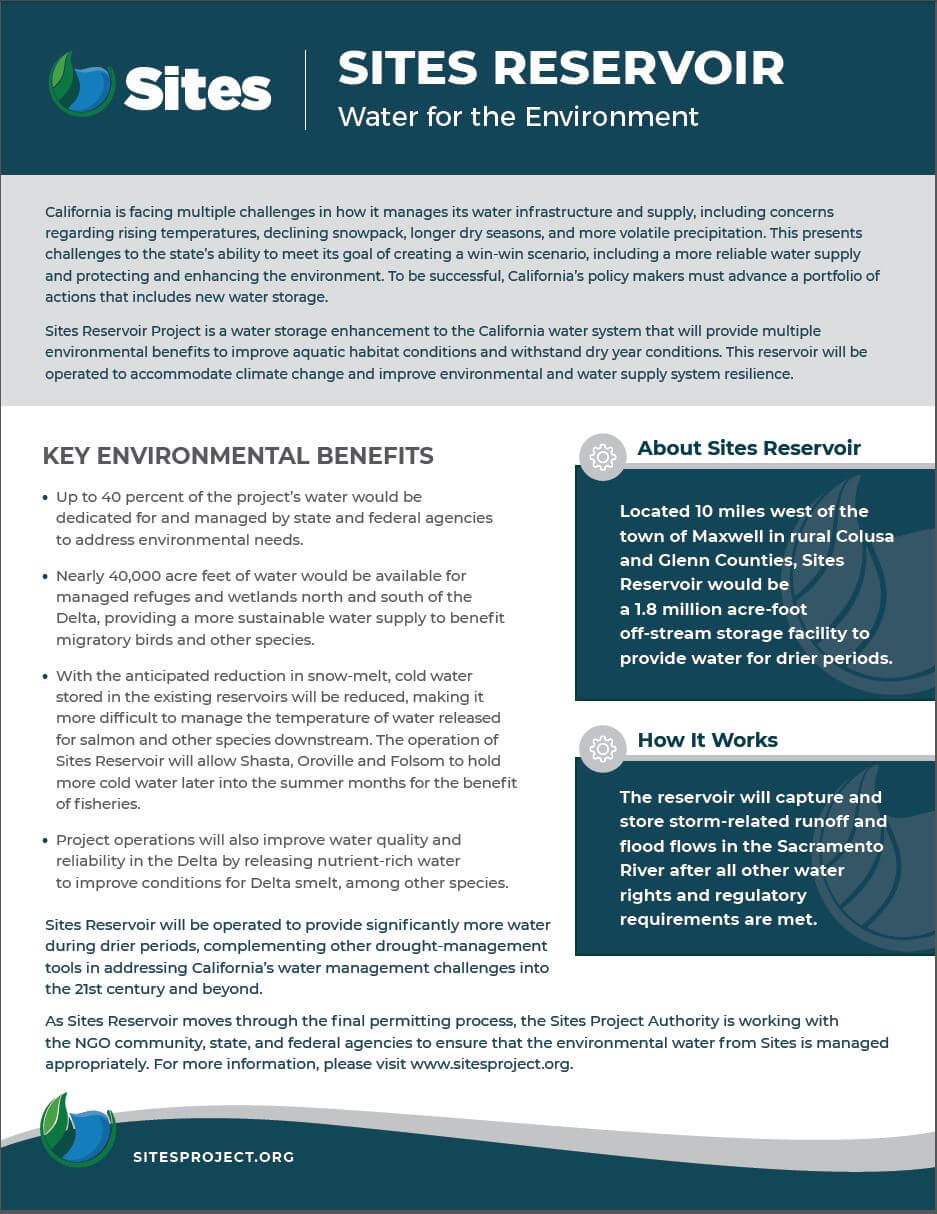 Sites Reservoir Project is an offstream water storage enhancement to the California water system that will provide multiple environmental benefits to improve aquatic habitat conditions and withstand dry year conditions. This reservoir will be operated to accommodate climate change and improve environmental and water supply system resilience. Sites Reservoir can provide an ecosystem water budget that would help provide flexibility and make water available during the drier years in California. For example, the Public Policy Institute (PPIC) has called for freshwater ecosystem water budgets, which assure water for the ecosystem during dry times. See here.
Most importantly, Sites Reservoir will significantly improve the state's water management system in drier periods, and restore much needed flexibility and reliability that has been lost in the system. Sites Reservoir is designed to give water resources managers across the state more flexibility to meet both customer demands and environmental needs, especially in dry and critical years.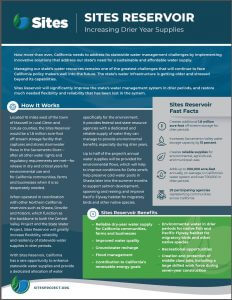 The hallmark for Sites Reservoir is it can serve multiple benefits and particularly provide significant public benefits to the State of California, including the public benefit of ecosystem system and water quality improvements, flood control, emergency response, and recreation. This foundational philosophy makes Sites a storage project that benefits both California's environment and its economy.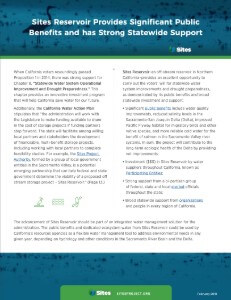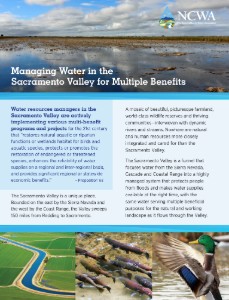 As a result of these positive features, Sites Reservoir has investment by Participating Entities on every major river in the Sacramento Valley, as well as throughout California. There is also strong support from a bi-partisan group of federal, state and local elected officials throughout the state, as well as broad support from organizations and people in every region in California.
An overview and Executive Summary for the Sites Project is available at: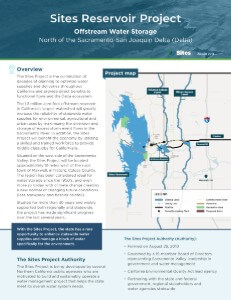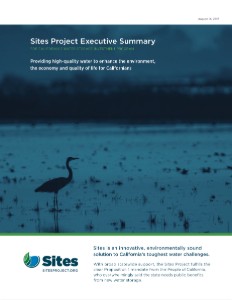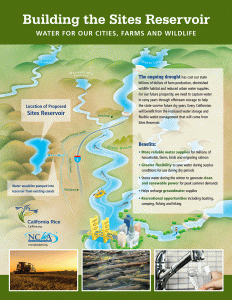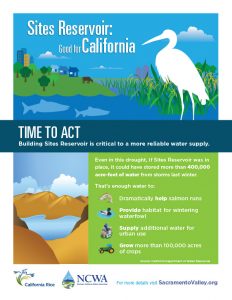 More information is available from the Sites Project Authority at: https://www.sitesproject.org/.
Sites Reservoir – Build Sites Now (2021)
In this video by sitesproject.org, we learn how Sites Reservoior:
Can provide environmental benefits
Is an important project for all of California as we tackle climate change and future droughts
Benefits ag, urban and the environment throughout California
Has a diverse investor profile, for different reasons, but Sites is the unifier