California voters on November 6 will have the opportunity to pass Proposition 3, the largest environmental habitat and water bond in California's history. The NCWA Board of Directors supports Proposition 3 as a long-term investment in managing water for multiple benefits in the Sacramento Valley and throughout California. A vote supporting Proposition 3 is an investment in all of the important purposes described below and many others throughout California. For more information, see "Yes on 3."
For the past month, NCWA has been offering a series of blogs highlighting the important investments in Proposition 3 and how water serves multiple benefits in the Sacramento Valley and throughout the state. In sum, Proposition 3 provides funding for:
Safe Drinking Water:

$500M for public water system infrastructure improvements for safe drinking water, including disadvantaged communities affected by nitrates.
Flood Protection for the Central Valley:

$200M for Central Valley Flood Board, multi-benefit projects for flood protection and fish and wildlife.
$100M for local agencies to repair or re-operate reservoirs.
$200M for repair of Oroville Dam spillways.
$21M Feather River sediment and floodwater projects.
Improving Conditions for Salmon:

$400M for restoration of Central Valley fisheries (i.e., salmon).
$300M for salmon restoration projects (both Central Valley and Coast).
$100M for fish screens (priority for projects in Sacramento Valley Salmon Resiliency Strategy).
Enhancing the Pacific Flyway:

$280M for migratory birds under Joint Venture Implementation Plan.
$110M for delivery of water to refuges (i.e., level 4 supplies).
Sustainable Groundwater Management:

$640M for local agencies to implement Groundwater Sustainability Plans.
Sacramento Region Water Reliability and Habitat Protection: $10M
Proposition 3 also contains water rights and area of origin protection language that is important to Northern California.
The following letter by NCWA Chairman of the Board Bryce Lundberg posted in the Chico Enterprise Record summarizes the importance of Proposition 3 to California's future.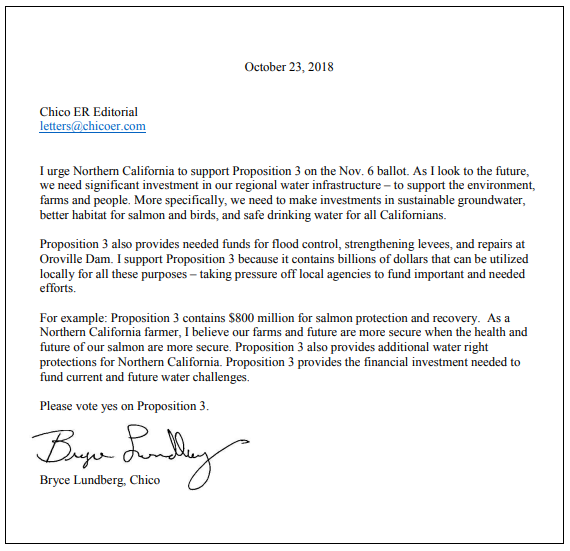 In sum, Proposition 3 is an important investment in California's future with unprecedented investments in fish and wildlife, safe drinking water for cities and rural communities, groundwater management, and flood protection. Proposition 3 has broad and diverse support from all over California as seen in the support list at: Yes on 3.