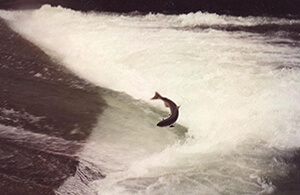 A lot has been said about one of the nation's first most significant fisheries restoration projects located on the middle reach of Butte Creek. In 1997, Western Canal Water District (WCWD) brought together an unprecedented partnership among agriculture, urban and environmental communities. Led by WCWD, the Butte Creek Fish Passage Improvement Project resulted in the removal of four diversion dams, at least 12 unscreened diversions and restored 25 miles of unimpeded flow for the first time since the 1920s. The $9.5 million project was funded by multiple partners including WCWD, Department of Interior, California Urban Water Agencies through the CALFED Category III and Tracy Pumps Mitigation Fund.
Through consensus-building and cooperation increasing numbers of Salmon are projected to return in Butte Creek and likely in the millions to the Ocean; as evident by the recent approval of the "longest commercial fishing season since 2005." However, removing barriers, augmenting flow, and screening diversions is not the ultimate solution, there are many contributing factors by "multiple sources" leading to disaster or in this case to an improvement in the future of the salmon runs.
Butte Creek is a rich example of how co-equals goals can be achieved, one watershed at a time. Farmers were able to maintain their diversion and their system was improved for both the fish and irrigating crops. The project forged new relationships and trust that might not otherwise been realized.
---
Butte Creek, one of only four Sacramento River tributaries with remaining populations of spring-run Chinook salmon, originates in the Jonesville Basin, Lassen National Forest.