Sacramento Valley is Single Most Important Wintering Area for Waterfowl
Who Are At Peak of Migration
SACRAMENTO – Each winter migrating waterfowl rely upon the Sacramento Valley to rest and feed during their annual migration, which is at its peak right now. Winter flooding of post-harvest rice fields, along with wildlife refuges, are key components to providing the food and resting areas necessary for migrating waterfowl, and, today, representatives from state and federal agencies, conservation organizations and water districts gathered in the Yolo Bypass to discuss these efforts.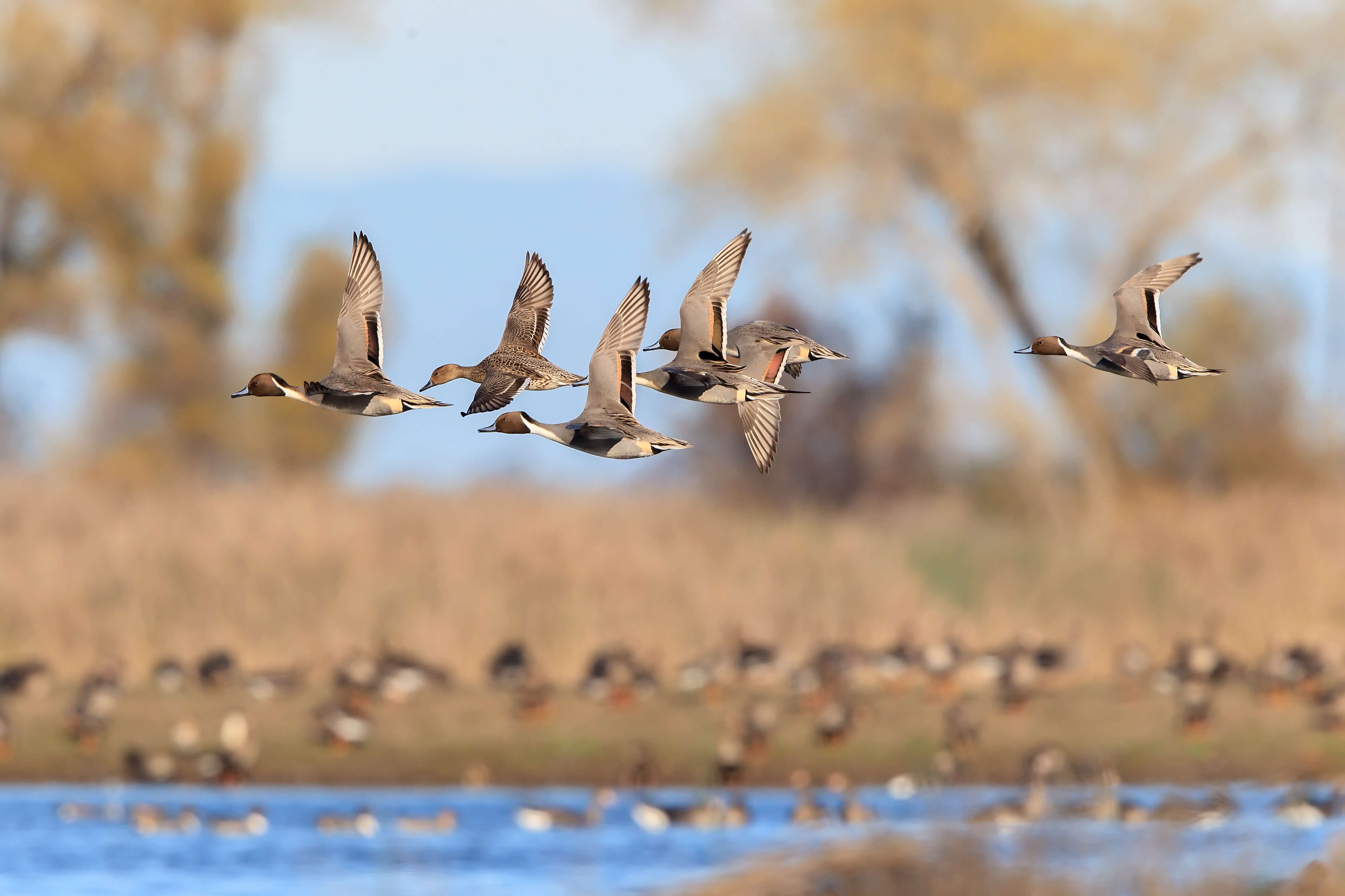 Each winter – farmers, wetlands managers, agencies and water districts work together to flood harvested rice fields, provide habitat on managed wetlands and deliver water to refuges and wildlife areas.  Collaborative partnerships, as well as effective management and delivery of water in the Sacramento Valley by water districts and agencies, ensures that habitat needed for birds and other wildlife continues to be available.
"The Sacramento Valley represents the single most important wintering area for the waterfowl along the Pacific Flyway," said Stafford Lehr, Deputy Director, Wildlife and Fisheries Division, California Department of Fish and Wildlife. "The partnerships between the private and public sector, along with the effective management of reliable water supplies, is absolutely key to providing the hundreds of thousands of acres of habitat for migrating birds each year."
"Places like the Yolo Wildlife Area create the backbone of the Pacific Flyway, supporting the millions of birds that travel through our Central Valley each year," Meghan Hertel, Director of Land and Water Conservation, Audubon California. "It is also a model of a successful multiple benefit project – the kind that will be critical for sustaining our wildlife and human communities well into the future."
Waterfowl migrate to the Sacramento Valley by the millions from as far away as Alaska, Canada, and Siberia with approximately 80% of all Pacific Flyway waterfowl ending up in or passing through the Central Valley. The Sacramento Valley habitat in particular supports about half of the wintering waterfowl, attracting four to five million waterfowl to its seasonal marshes.
Where land is flooded, as is the case on wildlife refuges and winter flooded rice fields, large numbers of geese, ducks, swans, and other waterfowl, as well as wintering shorebirds and other waterbirds, can be observed.  One recent count of greater white-fronted geese – just one species of waterbird – found 725,000 in the Sacramento Valley alone. Other duck and goose surveys are conducted in mid-Winter.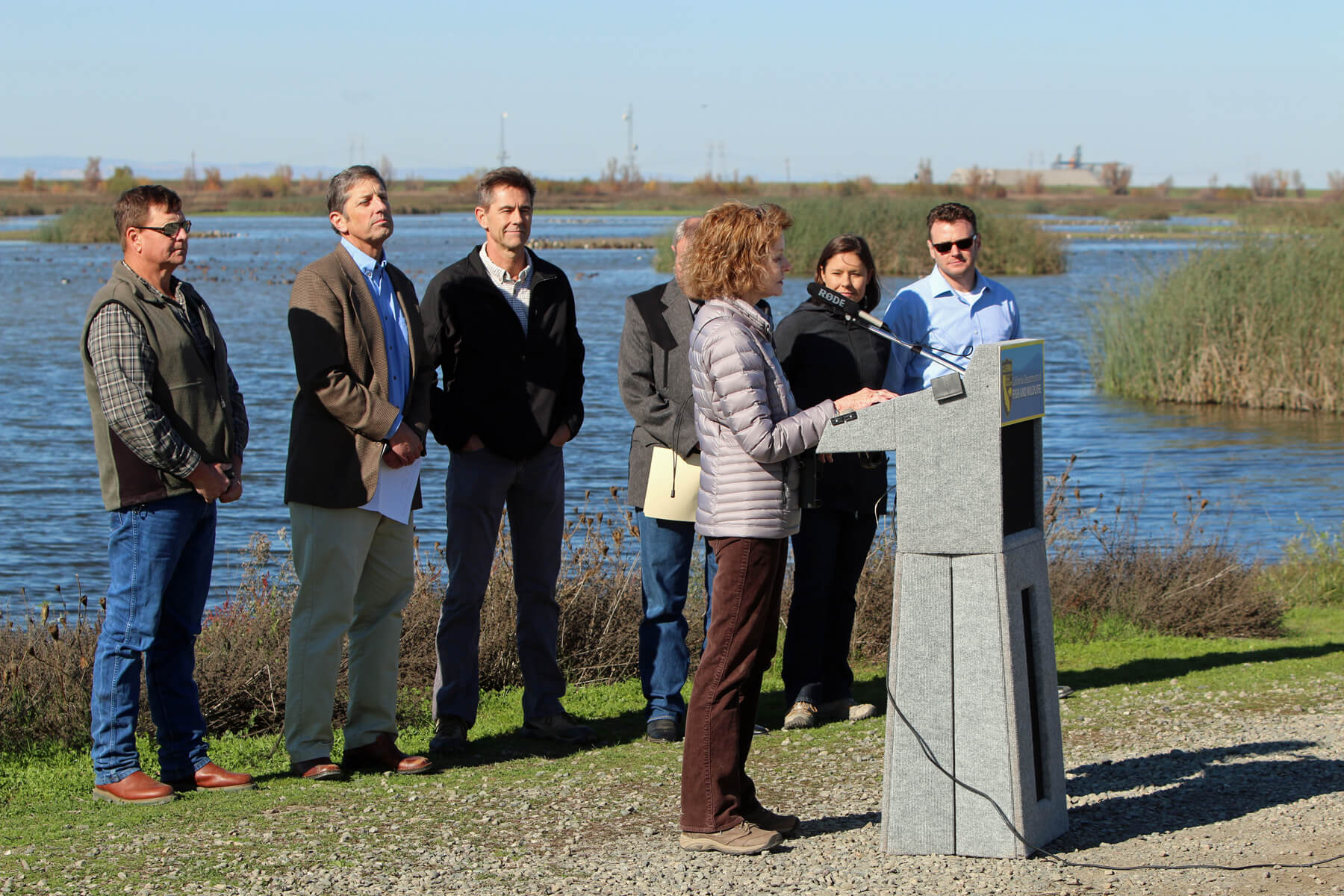 The limited amount of natural wetlands in the area makes small-grain production fields (mostly rice) critical to the survivability of the large numbers of waterfowl wintering in California. Many water districts and companies in addition to providing water for the working agricultural landscapes and privately managed wetlands also deliver water to federal wildlife refuges and state wildlife management areas. The flooded fields and wildlife refuges, along with intensively managed private wetlands, help compensate for the 95% of Central Valley wetlands lost over the years.
The habitat goals for the Central Valley region of the Pacific Flyway are compiled in the Central Valley Joint Venture Implementation Plan, which was published in 2006. These goals include habitat needs for the different basins located in the Central Valley, as well as conservation objectives for the six bird groups identified in the Plan (wintering waterfowl, breeding waterfowl, wintering shorebirds, breeding shorebirds, waterbirds, and riparian songbirds). These conservation objectives are also integrated in the plan to provide overall acreage and water supply objectives for wetland restoration, wetland enhancement, riparian restoration, winter flooded rice, waterfowl-friendly agriculture, and agricultural easements.
"The important work being accomplished by the partners of the Central Valley Joint Venture is critical to fulfilling our responsibility to protect wetlands and the millions of migrating birds that rely on them," said Greg Yarris, Science Coordinator, Central Valley Joint Venture. "Working together, we ensure wildlife enhancement occurs alongside continued agricultural production, and supports recreational opportunities and other societal benefits."
Joining Yarris, Lehr and Hertel at the event were Ann Brice, Board Member, Audubon California; Mike DeWit, Rice Grower; Mark Biddlecomb, Director of Operations, Ducks Unlimited; and Todd Manley, Director of Government Relations,
 Northern California Water Association.
To learn more, visit: Norcalwater.org – Birds and the Pacific Flyway  and view the document below.