The Northern California Water Association appreciates the positive energy shown by the Governor yesterday in his commentary California must get past differences in water. Voluntary Agreements are the path forward.
 
The Northern California Water Association (NCWA) and water leaders throughout Northern California are fully committed to this collaborative approach and we appreciate the Governor and his state team advancing Voluntary Agreements as a new way forward for California. NCWA has been working closely with conservation organizations, water suppliers in other parts of the state, and both our state and federal partners to advance the science-based Voluntary Agreements as a more comprehensive, effective and immediate solution to the vexing challenges in California's Bay-Delta watershed than the traditional regulatory approaches. 
Californians have built an amazing and highly managed water system. But this system is under strain as our values in California water continue to evolve and we face increasing droughts, floods and fires. California's current population of 40 million will grow to 50 million by 2050. We have the most abundant agricultural bounty in the world, we are graced with a stunning landscape and related natural infrastructure, we are the 5th largest economy in the world, and our citizens pursue endless recreational opportunities in every part of the state. Water is essential for all of these special features that define California and a fresh approach is welcome and needed for this great state to continue to protect and enhance our economy, environment, and values in water.
The Voluntary Agreement framework advanced by the Governor and his state team offers a fresh and different approach. Best ecological practices have shown land for habitat carefully integrated with water is critical to restore fish and other endangered species, which is front and center in the Voluntary Agreements. Voluntary Agreements also provide a robust and science-based portfolio of funding, strategically managed flows, habitat enhancements, floodplain utilization and close collaboration amongst stakeholders.
Importantly, most of the Sacramento Valley is part of the historic floodplain–naturally flood prone areas along the river. Under the Voluntary Agreements, farmland, wildlife refuges and flood bypasses will be managed to recreate this historic floodplain, benefiting salmon and hundreds of other species of fish and wildlife, while maintaining and enhancing flood protection, and maintain water supply certainty for the region's vibrant communities and farms. 
For more information on Voluntary Agreements and the Sacramento River Basin, see Voluntary Agreements: Adapting Water Management for Thriving Fish, Wildlife and Communities.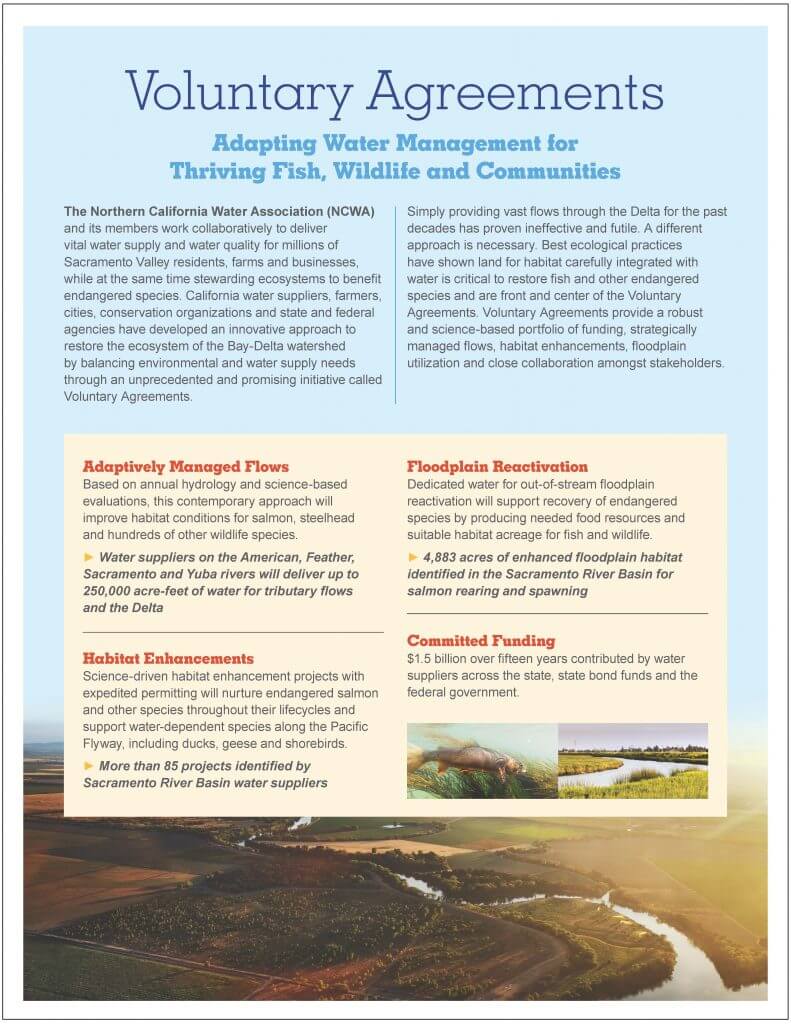 For more general information about Voluntary Agreements, please visit www.VoluntaryAgreements.org.
_______________________
For additional information on Voluntary Agreements in the Sacramento River Basin, please contact:
American River: Andy Fecko (Placer County Water Agency) 530.308.4507.

Feather River: Ted Trimble (Western Canal Water District) 530.520.2507, Sean 

Earley (Richvale Irrigation District) 530.701.8181, or Eugene Massa (Biggs-West 

Gridley Water District) 530.330.6049.

Sacramento River: Thad Bettner (Glenn-Colusa Irrigation District) 530.588.3450 or 

Lewis Bair (Reclamation District 108) 530.979.1536.

Yuba River: Curt Aikens (Yuba Water Agency) 530.701.6800.

Northern California Water Association: David Guy, 209.275.7867.