On July 28, in a tent just south of Woodland, nearly 300 gathered to dedicate the Woodland Davis Clean Water Agency's (WDCWA) water treatment facility.  The project will bring high-quality, treated Sacramento River water to the cities of Woodland and Davis and UC Davis, a project partner. The $144 million design build facility was first envisioned in the early 1990s when the Yolo County Flood Control and Water Conservation District applied for surface water rights from the Sacramento River.
As Yolo County Supervisor and WDCWA Founding Board Member Don Saylor said, "I love it when a plan comes together," quoting the catchphrase from the television series "The A-Team."  The plan-nearly twenty five years in the making– brought together the two culturally different cities of Woodland and Davis to address  a common need to improve their drinking water supplies.  The regional cooperation that grew out of the partnership  – naming the effort alone was the focus of three hour meeting according to Saylor- is being heralded as a model for other areas.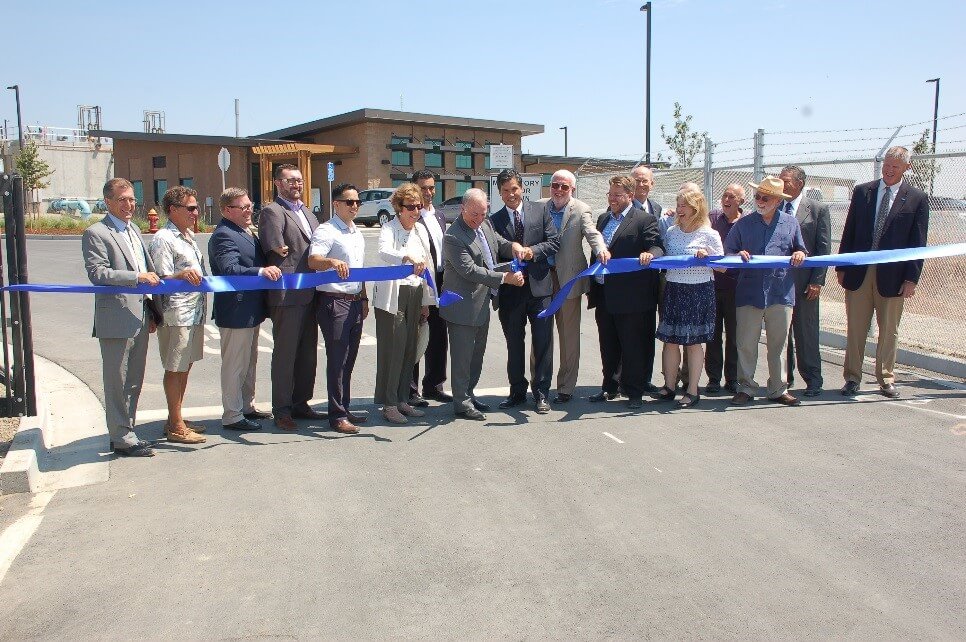 Davis Mayor Robb Davis characterized the project and the partners as being resilient, having not only delivered an environmentally sustainable, but an economically sustainable project, on time and within budget.
In congratulating the Woodland-Davis Clean Water Agency (WDCWA) on what it has achieved California Senator Lois Wolk pointed out the multiple benefits of the project: to improve water supply reliability, water quality, and help the cities comply with increasingly strict drinking water quality and wastewater discharge regulations, in addition to screening the largest diversion on the Sacramento River for the protection of fish populations.
Woodland and Davis were two of only a very few cities in California that relied entirely on groundwater for water supplies. Faced with degrading groundwater supplies and increasingly strict state and federal regulations for drinking water and wastewater discharge, the cities formed the Woodland-Davis Clean Water Agency to plan, finance and construct a new surface water project to improve water quality and reliability for the majority of Yolo County residents, and also help the cities comply with current and future anticipated state and federal regulations. Formal planning for the Davis-Woodland Water Supply Project began in 2009, culminating in a $144 million Design-Build-Operate service contract for a Regional Water Treatment Facility awarded to a team led by CH2M Hill. A dedication for the water diversion (intake) facility on the Sacramento River – a joint project of WDCWA and Reclamation District 2035 – is slated for September 13.