Water resources managers and the leaders in Northern California continue to advance Ridgetop to River Mouth water management to bring this region and its people to life—the farms and ranches, the cities and rural communities, the fish, birds, and wildlife. Northern California's water is the lifeblood for our families, the fish and wildlife that grace this region and our special way of life.
There are unique opportunities in the Sacramento River Basin to advance ridgetop to river mouth water management, which can best be envisioned by looking holistically at: 1) headwaters and forest health, 2) floodplain reactivation for public safety and fish and wildlife, 3) sustainable groundwater management (including groundwater recharge and banking), 4) healthy soils and farms; 5) safe drinking water; and 6) vital rivers and streams.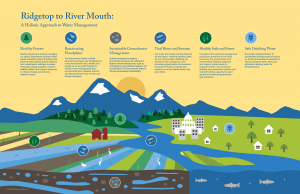 These opportunities are central to the Water Resilience Portfolio and embody Governor Newsom's Executive Order for nature-based solutions that "advance multi-benefit, voluntary and cooperative approaches that protect and restore biodiversity while stewarding natural and working lands, building climate resilience, and supporting economic sustainability." This is described in more detail in the North State Water Alliance's How Water Management Investments Improve the Environment in Northern California. These opportunities not only prepare our landscapes for periodic drought cycles, but also help adapt them to climate variability.
In California, we have the most abundant agricultural bounty in the world, we are graced with a stunning landscape and related natural infrastructure, we have a vast and diverse fish and wildlife population, the 5th largest economy in the world, and people come from near and far to pursue our seemingly endless recreational opportunities. To preserve our special way of life in the North State, water resource managers in the Sacramento River Basin are working together to help manage the regions' water and land resources. By using a nature-based approach from the ridgetop to the river mouth, we provide nourishment and sustenance from the fields, habitats for fish and wildlife, safe drinking water, recreation and a special quality of life.
The Sacramento River Basin is sourcing our sustainable future through responsible management of the essential resource that millions of birds, hundreds of thousands of fish, thousands of farms and millions of people all rely on–water. Successful implementation requires continued collaboration among landowners, conservation organizations, water managers, local governments, and support from state and federal water and resource management entities.
Please click on the document below to reveal a path forward that promotes long-term security and viability of water supplies to support all life in California.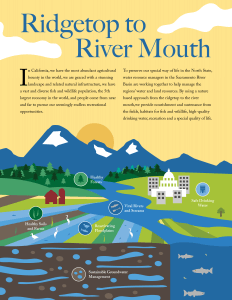 To see a discussion around Ridgetop to River Mouth water management, please see NCWA's 2021 annual meeting.