By Todd Manley
With the dry years in California there is the expected increased commentary on water issues. This commentary is across the board from all sectors, and ranges from very factual reports to significant hyperbole. As policy makers sort through all this commentary, a famous passage by Theodore Roosevelt referred to as "The Man in the Arena" may be helpful.
"It is not the critic who counts; not the man who points out how the strong man stumbles, or where the doer of deeds could have done them better. The credit belongs to the man who is actually in the arena, whose face is marred by dust and sweat and blood; who strives valiantly; who errs, who comes short again and again, because there is no effort without error and shortcoming; but who does actually strive to do the deeds; who knows great enthusiasms, the great devotions; who spends himself in a worthy cause; who at the best knows in the end the triumph of high achievement, and who at the worst, if he fails, at least fails while daring greatly, so that his place shall never be with those cold and timid souls who neither know victory nor defeat." – From "Citizenship in a Republic" by Theodore Roosevelt
This passage creates a clear distinction between those who are actively working, and the observers offering only critiques. In the Sacramento Valley, we similarly differentiate between people and organizations who are working on the "fix" and others who choose to focus on the "fight." During a drought, it often seems like much attention is given to the critic, who has never managed water resources or implemented projects to improve water management or habitat for water-dependent species, but has the "simple" answer to the problem at hand. Inevitably, the critics focus on their favorite beneficial use of water, which they favor at the expense of other important beneficial uses of water.
This year, and in future dry years, we ask you to instead focus on "those in the arena," who are working hard, with limited resources, to actively manage water for sustainability and multiple benefits. In the Sacramento Valley, we are fortunate to have many individuals and entities who are "in the arena" and are actively partnering on collaborative efforts to make the Sacramento Valley a better place for birds, fish, terrestrial species, and the human residents who live and work here. These leaders come together and are cultivating a shared vision in the Sacramento Valley for a vibrant way of life. This includes the following:
Leading landowners who are investing their own resources and adopting practices on their lands to improve the habitat value for the region's species. They are volunteering their time and land and working with conservation organizations and universities to try new practices and engage in studies to further refine methods to improve habitat for fish and wildlife and ensure healthy soils and water quality remain high in the region.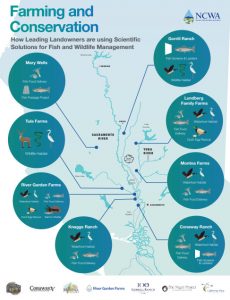 The conservation organizations my colleague Gary Link affectionately refers to as "dirt-turning conservation organizations" who are working with landowners to construct projects improve habitat for Chinook salmon and other fish and Pacific Flyway species of birds that visit our region every fall and winter. These organizations hire biologists and engineers to bring creative ideas that focus on the "fix" rather than the "fight."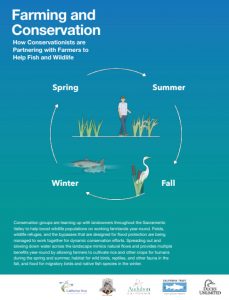 Water resources managers who are continuing to manage the region's water resources from ridgetop to river mouth to serve water for multiple benefits. During drought years, these managers recognize that there will be considerable impacts on birds, fish, farms and local communities and attempt to manage the resources to diminish those impacts without disproportionately placing the burden on any individual water use. At the same time, the water managers are participating in the implementation of projects and programs to benefit fish and birds throughout the region.
Staff at state and federal fish and wildlife agencies who are engaged in efforts to manage water and land to benefit species impacted by drought. The region's refuge managers are working with the water managers and conservation organizations to maximize Flyway habitat with severely limited water this year. Fisheries biologists with the agencies are recommending creative water management actions with the goal of improving fish migration and survival.  They also have collaborated on projects implemented since the last drought that are benefiting Chinook salmon and other fish this year.
During a time of crisis, like a drought, it is easy to get fixated on all of the challenges associated with it. This is not necessarily bad, if that fixation is focused on actions that can be taken to address the challenges. Where it becomes problematic is when the focus is limited to the challenge itself and scapegoats are made of those actively attempting to address the challenge during a very difficult time. This hyperbole and criticism may increase "clicks" or garner attention, but we know it does nothing to make the situation better nor does it help serve water for all Californians. And, shouldn't that be our collective goal?
If you would like to be in the Sacramento Valley arena, please let me know at tmanley@norcalwater.org.