By David Guy
The California Legislature this week approved a new $75M drought relief grant program designed to help small businesses that support production agriculture. The program also allocates 20 percent of the funds for small or socially disadvantaged farmers. Once signed by the Governor, the grant program will be open to dryers, mills, suppliers, service providers, aircraft, and trucking that supports agriculture, as well as small or socially disadvantaged farmers with 100 or fewer employees.
With the unprecedented dry year in the Sacramento River watershed, this program will be very helpful to the small businesses throughout the region who are vital to our communities and farming, which supports the essential economy and the environment in the Sacramento Valley. The Sacramento River watershed has been especially impacted with the current storage in Lake Shasta at 1.59 million-acre-feet, compared with the average 3.4 million acre-feet for this time of year. As a result of these unprecedented and dire conditions, there will be impacts to every use of water–low supplies for rural disadvantaged communities resulting in drinking water impacts; agriculture leading to substantial fallowing of croplands and job losses; and significant environmental impacts to native fish, birds and other wildlife that depend on water on the landscape and in the rivers.
For context, 600 square miles of farmland is left fallow this year on the west-side of the Sacramento Valley, which is more than 370,000 acres of farmland, nearly 80% of the total farmland in this service area. The 2020 and 2021 water years left California, and especially California agriculture, damaged and vulnerable. A report by Daniel A. Sumner and William A. Matthews (Department of Agricultural and Resource Economics, University of California, Davis) estimates that in the Sacramento Valley there will be 14,300 jobs lost; $1.3 billion in lost economic value added; $732 million in lost labor income; and supply chains are devastated.
Rice production in California is estimated at just over 250,000 acres this year. While some farmers are growing about as much rice as last year, production in Glenn and Colusa counties is virtually zero.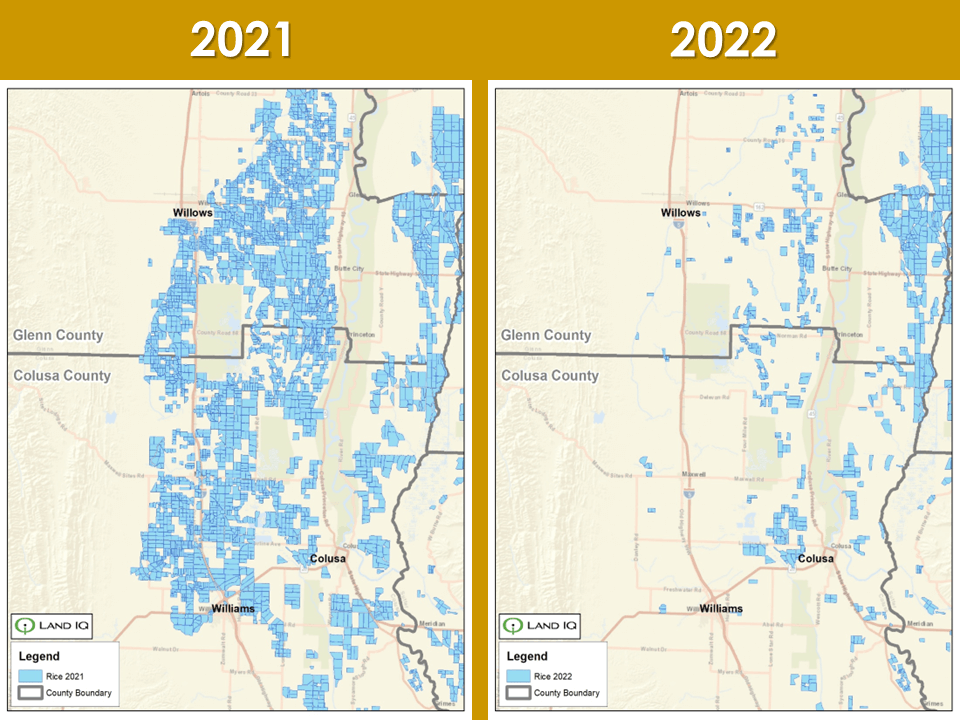 The new state program is based on the amount of loss in gross revenue or gross profit in 2022 compared to the last normal year of planting in 2019 of at least 30 percent, qualified business would be able to receive grants of $60,000 – $100,000 to offset losses related to the drought.
We were also fortunate to have a field tour this week with United States Department of Agriculture (USDA) Undersecretary Robert Bonnie, California Department of Food and Agriculture (CDFA) Secretary Karen Ross, Jeff Yasui with USDA/RMA, and Carlos Suarez with the National Resources Conservation Service (NRCS) (shown below in the Yolo Bypass). They heard directly from local businesses that are key to our communities and from leading biologists and conservationists describing the environmental impacts due to drought.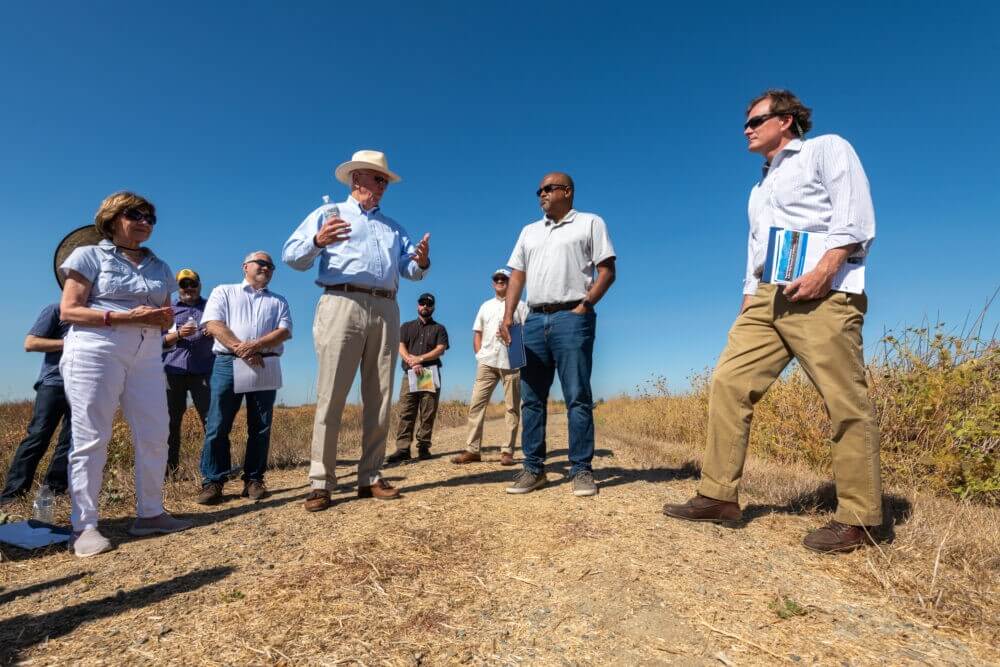 We are very appreciative of the Legislature's willingness to extend drought relief to the businesses that support our farms and the Administration's leadership, especially Secretary Ross, for recognizing the impacts in the Sacramento Valley this year without water supplies. A coalition of the California Rice Commission, California Warehouse Association, California Agricultural Aircraft Association, California Tomato Growers, Ag Council of California Western Plant Health Association, and NCWA were instrumental in framing the important need for this program to benefit our communities.