By Reagan Denny
Northern California is home to nearly four million people, from downtown Sacramento to mountain towns to small farming communities. Of those four million, approximately 600,000 are living in disadvantaged communities. For the past decade, the Legislature and Governor have implemented various policies to support disadvantaged communities in California, ensuring these communities have access to reliable, clean water when they turn on the tap. This dynamic was particularly vivid with the recognition of a Human Right to Water (HR2W) in 2012, making California the first state to enact legislation recognizing "safe, clean, affordable, and accessible" water as a human right. NCWA and leaders throughout the Sacramento Valley are carrying out a comprehensive approach from ridgetop to rivermouth, expanding and ensuring access to safe, clean, affordable drinking water for all Californians, regardless of economic status.
To further serve those in struggling communities in the Sacramento Valley, we have gathered information on what the Legislature classifies as disadvantaged communities, so policymakers, water providers, and other state leaders can better understand and serve these communities and provide safe drinking water for all.
For context, the following map shows poverty levels in counties in Northern California.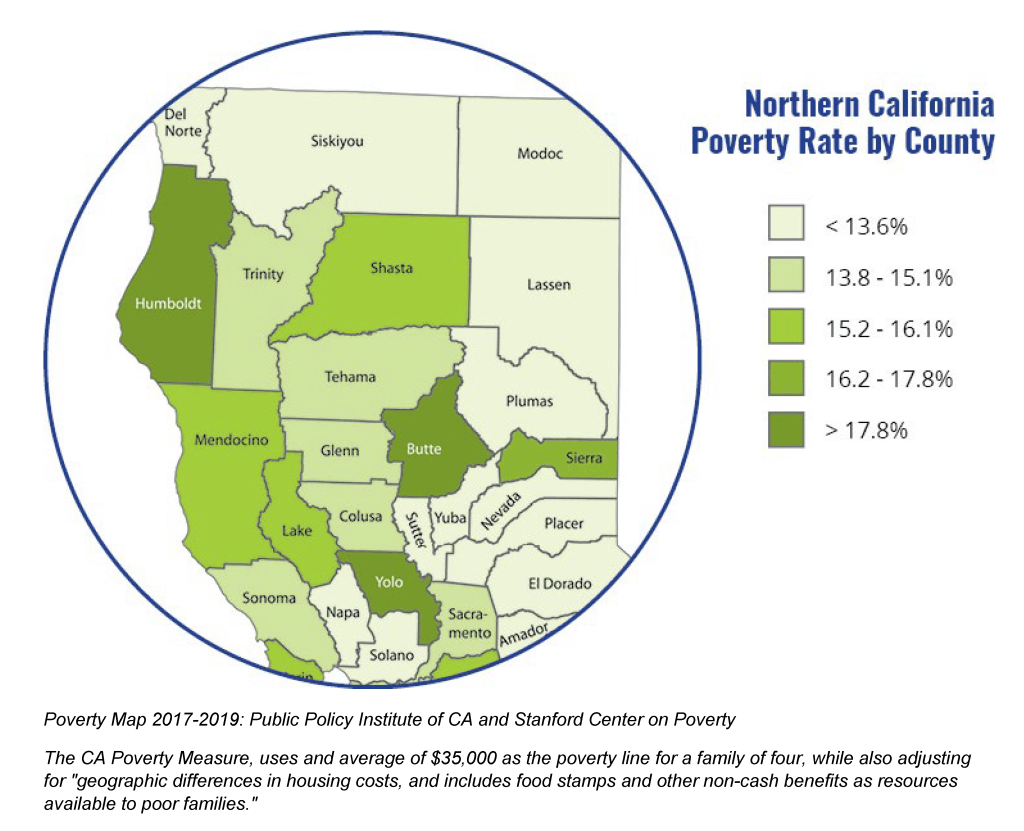 More specifically, the Department of Water Resources created a DAC Mapping Tool shown below, which identifies Disadvantaged Communities and can be clicked on and filtered by Census Place, Census Tract, Block Groups, Prop 1 Funding, Hydrologic Regions, and IRWM Regions.
A Disadvantaged Community (DAC) in California is defined in Water Code §79505.5 as a community with an annual median household income that is less than 80% of the Statewide annual median household income, or $56,982. A Severely Disadvantaged Community is defined by MHI below 60% of the statewide average, or $43,737.
A Small Disadvantaged Community refers to a Disadvantaged Community that has a yearlong population of no more than 10,000 persons.
For more details and a list of disadvantaged communities in the Sacramento Valley, please visit Disadvantaged Communities in Northern California. DAC designation can be applied to various actions involving water, including state funding and responsibilities for Integrated Regional Water Management, the Sustainable Groundwater Management Act (SGMA), Safe and Affordable Funding for Equity and Resilience (SAFER), and the California Water Plan.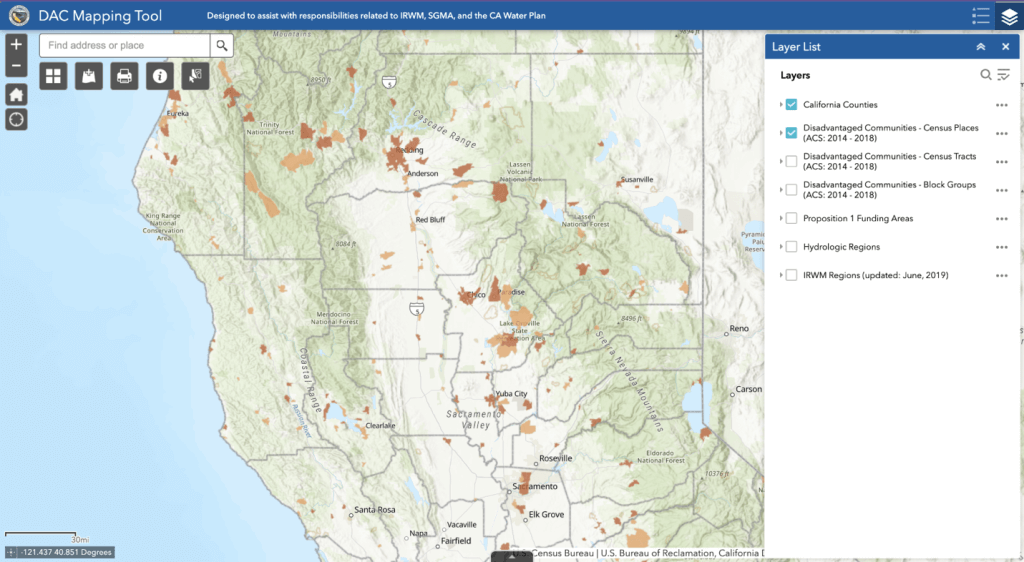 If they can be properly applied, these definitions and tools can be used to take care of the people who need it most; small, rural communities in need of state assistance and resources.
In the Sacramento Valley, leaders have various programs to help ensure access to safe, clean, and affordable water for disadvantaged communities. This includes:
The North State Drinking Water Solutions Network
Water Quality Coalitions to Ensure High Quality Water
The Voluntary Agreement Process for Healthy Rivers, Landscapes, Communities and Farms
Sustainable Groundwater Management
For more details on specific disadvantaged communities in the Sacramento Valley, see the infographic below and visit Disadvantaged Communities in Northern California.