By Todd Manley
Substantial work occurs in the Sacramento Valley every year on projects to develop and enhance habitat for the region's terrestrial and aquatic species.  In-stream salmon recovery projects, Pacific Flyway habitat improvements, floodplain reactivation and many other types of habitat projects all require environmental permits to be implemented.  There is general recognition that the work necessary to acquire these permits greatly increases the time and cost to get the projects done.  This recognition resulted in the State Water Resources Control Board (SWRCB) hosting a workshop earlier this month to hear comments on a proposed General Order to "expedite the regulatory approval process for large habitat restoration projects," and the Public Policy Institute of California to publish a report on "Advancing Ecosystem Restoration with Smarter Permitting."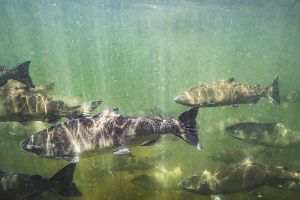 At the SWRCB workshop, the Board heard from many habitat project proponents on how the proposed General Order would improve the timing and cost to implement projects.  NCWA submitted comments and joined with our floodplain partners in an additional letter on behalf of the Floodplain Forward Coalition in support of the General Order.
Key findings in the PPIC report on the need for improved permitting included: To scale up and speed restoration, the state needs to reform permitting; smarter permitting efforts promote better outcomes; regulatory agencies can embrace smarter permitting in three key ways; and, project proponents and regulators all have a role to play.
Permitting improvements for habitat projects will result in projects being completed in a more timely and cost-efficient manner.  This is the goal of the California Natural Resources Agency's Cutting the Green Tape initiative and will bring much needed efficiency to the implementation of habitat improvements throughout the state.