Yolo County Flood Control & Water Conservation District is pleased to announce that Kristin Sicke has been selected to become the new general manager of the irrigation district.  The District's primary mission is to provide surface water for agricultural purposes in western Yolo County, and is integral to monitoring and maintaining sustainable groundwater supplies within the county.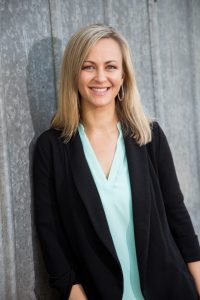 Kristin Sicke has served as assistant general manager for the District for the past six years and was the preferred candidate after a rigorous selection process. Upon assuming the general manager position, Ms. Sicke will be responsible for the full management of all operational and maintenance activities of the District, along with all administrative and regulatory compliance functions. Kristin will take over for Tim O'Halloran, who has led the agency for the past eighteen years.
The District's board chair, Bruce Rominger, shared his thoughts on why they selected Kristin to be the next leader of the District: "Kristin possesses an amazing array of strengths; she has a technical background as a civil engineer, is leading the District's efforts to manage the conjunctive use of ground and surface water supplies, and has been a thoughtful and collaborative leader in her role as assistant general manager. She is extremely well regarded among growers, our partners, and the community at large and is an incredibly hard worker. The board feels very fortunate that Kristin was ready and willing to take on this new role."
Prior to her role as assistant general manager at the District, Kristin worked at the California Department of Water Resources as a Water Resources Engineer focused on projects related to operations for water supply and flood management. She has experience in project and contract management, served as a regional Department representative to water agencies throughout northern California and was responsible for evaluating grant applications for stormwater flood management and water-energy projects. She is a credentialed Professional Engineer in the State of California and possesses a bachelor's degree in Civil Engineering and a Master of Science in Civil and Environmental Engineering, both from the University of California, Davis.
Ms. Sicke expressed these thoughts regarding her promotion "Tim O'Halloran has had such an enormous impact on the District and the community that I'm humbled to be stepping into his shoes. However, I know that with our incredible team here at the District, we will continue to serve the farmers who depend on us to help maintain the agricultural economy of Yolo County. I'm also grateful that Tim will continue to serve the District in the role of Senior Advisor."