By Kevin O'Brien
Many of my best days as a lawyer were spent driving through the Sacramento Valley and north Delta with George Basye (always in his Volvo). As George neared his retirement, he wanted to ensure that I, as the successor to a number of his clients, understood the foundations of his client relationships. George seemingly knew the history of every quarter section of land up and down the Valley. He had a deep affection not only for the landscape but, most important to George, for the individuals and families who had settled and reclaimed the land and built the agricultural economy of the region.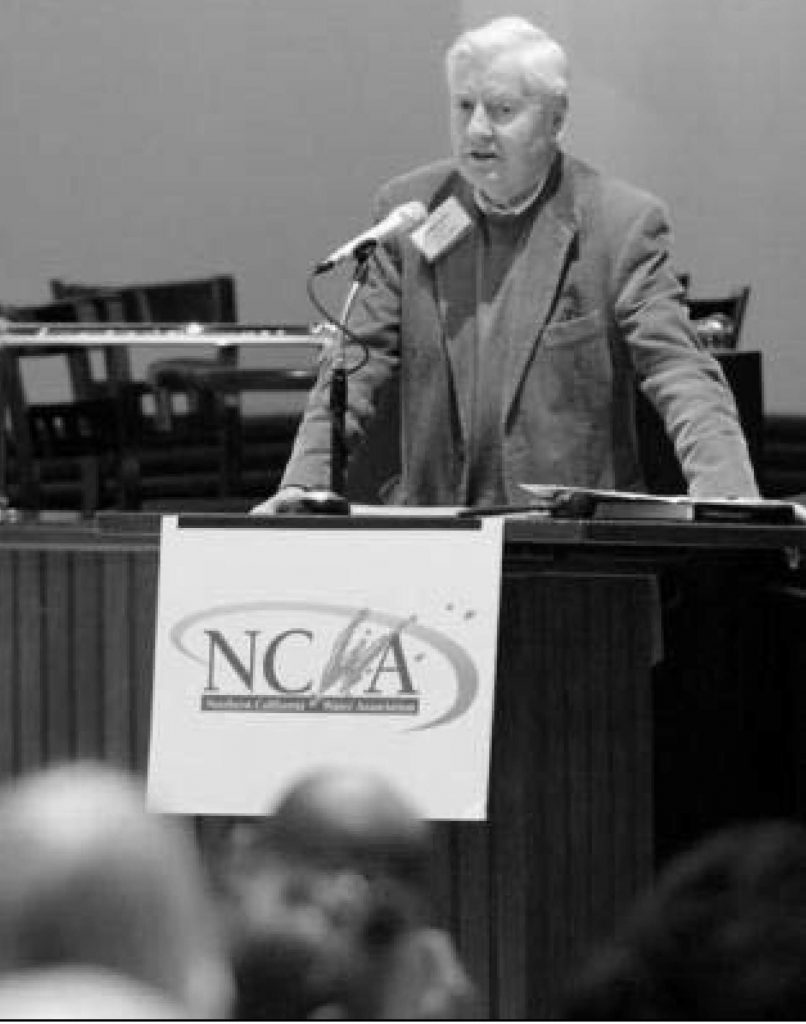 I first met George in the summer of 1985 and I vividly recall my initial impression:  a naturally graceful and impeccably dressed and coiffed gentleman, worldly (he had studied in Sweden and was fluent in the language), with a broad range of interests and a twinkle in his eye.  We talked about law but also about his jazz band (he played bass), his love for classical music (president of the Sacramento Symphony board) and his deep interest in California history.  George grew up in Porterville in Tulare County.  I came to believe that George's roots in an agricultural region gave him a special connection with the farmers and agricultural communities of the Sacramento Valley and north Delta.
I have never known a lawyer who was so genuinely loved by his clients and colleagues.  There are many reasons for this but I believe one of George's greatest gifts was his willingness to mentor young men and women.  As an example, Anne Schneider was George's young protégé in water law and she became the first female partner at Downey Brand in the early 1980s, later forming her own law firm.  Other current leaders in the water and agricultural communities have told me stories of George teaching them the legal and institutional framework of water and flood control law.  George undertook these efforts out of altruism; he wanted to ensure that the next generation of water leaders is prepared to advocate effectively for the interests of the Sacramento Valley and north Delta.
Of course, George also achieved great successes for his clients in the legal realm.  His most notable achievements include the successful negotiation of water rights settlement contracts in the Sacramento Valley and north Delta.  These contracts have provided decades of stability and significant economic return for his clients and neighboring communities.  George was an early proponent of the philosophy "fix don't fight."
By the nature of the legal profession, lawyers don't leave behind impressive buildings, new machines or verdant fields.  But the best ones, like George Basye, leave behind institutions that endure and thrive.  George left a lasting mark on the clients and communities he served.  He will be missed.
---
The Northern California Water Association Board of Directors honored George Basye with a resolution upon his retirement in 2005 and with the Will S. Green Award in 2012 for devoting his life to the promotion and advancement of irrigation in the Sacramento Valley. These are shown below.  George's wonderful book: Battling the River: A History of Reclamation District 108, is available from RD 108 by calling Anne Zwald at 530.437.2221.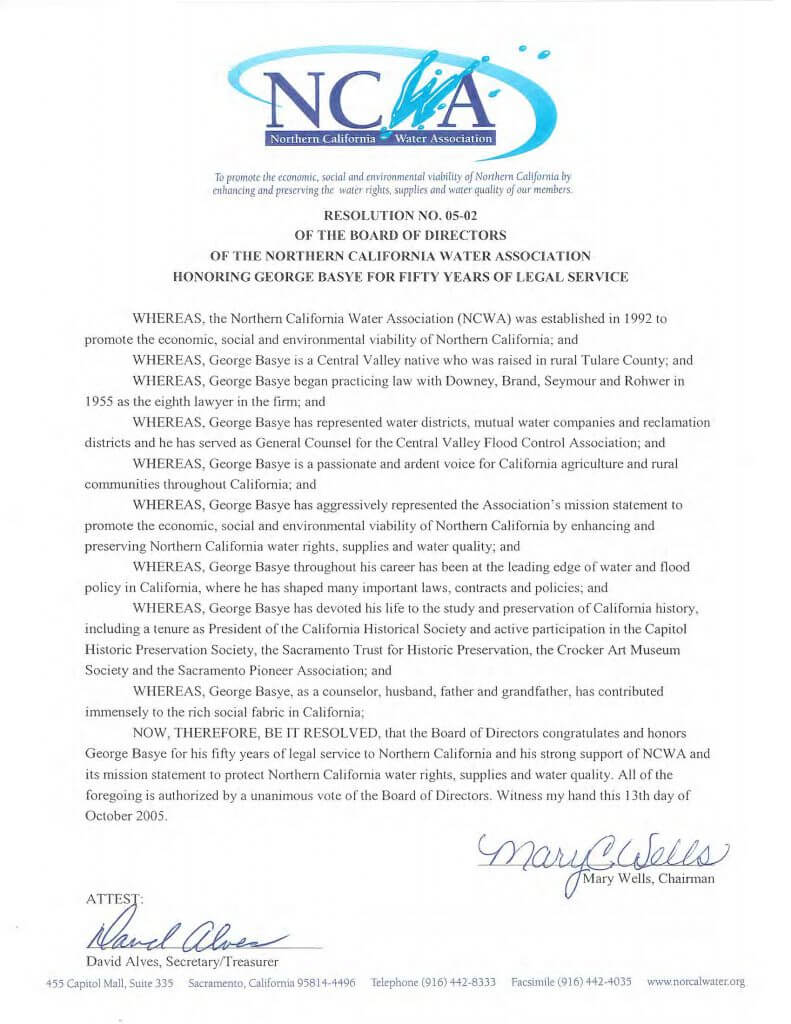 ---