By Todd Manley
It might be hard to imagine that it has already been more than five years since we exited the extreme dry years of 2014 and 2015. At that time, local, state and federal water managers were taking unprecedented actions in response to the dry conditions to maximize beneficial uses and every Californian was feeling the impact of multiple dry years. A crisis such as this creates an environment in which different viewpoints are easily developed and rapidly disseminated, sometimes without supporting information or facts. In response to four of the more prevalent myths we heard during this time, NCWA posted a blog in April 2015 to help dispel the myths and direct our collective attention on empirical data, facts, and constructive actions to address dry year conditions.
Today, rather than spending energy on myths, we can instead focus our efforts on actions we can take now to be better equipped for dry years and serving water for cities and rural communities, farms, fish, birds, and other wildlife. In their blog earlier this year, Fritz Durst and Brent Hastey outlined much of the work that has occurred since 2015 to prepare for the next dry year. In addition to those actions, we also have worked to better identify the timing and quantity of water needed during dry years to maximize habitat benefits with limited resources.  Freshwater Ecosystem Budgets have been developed for the needs of species in the region, including birds using the Pacific Flyway. An assessment of the water and infrastructure needs for the refuge properties in the Central Valley was also completed. With the experience gained during 2014 and 2015, Pacific Flyway conservation partners also collaborated on a summary of actions the State Water Resources Control Board can take to amplify habitat values for birds during dry years when water supplies are reduced.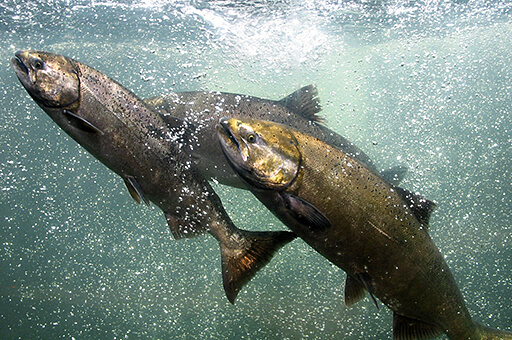 For the region's fish species, we are preparing for the next dry year by developing a better understanding of how modern functional flows can increase benefits for the species in a more efficient manner, and there are re-managed flows on every part of the system to help salmon. We also are constructing habitat projects for Chinook salmon in the upper, middle and lower reaches of the Sacramento Valley's waterways to benefit all of their freshwater life-cycle stages. These habitat projects are designed to provide habitat values even during dry years, when water levels in the rivers are low.  In dry years, salmon will also benefit from the projects being implemented to reactivate floodplains on both sides of the levees in the region.
Our mantra in the Sacramento Valley is "focus on the fix rather than the fight". In anticipation of the next dry year, we hope to avoid the "fight" over water myths and continue working on the "fix" through collaborative partnerships implementing programs and projects to maximize the value of beneficial uses of water in the region.