By Willie Whittlesey, Yuba Water Agency General Manager
The Hallwood Side Channel and Floodplain Restoration Project shows how creative public-private partnerships can advance habitat restoration work in the Yuba River and beyond
Earlier this week, Yuba Water Agency and our partners celebrated the completion of a 157-acre multi-benefit habitat restoration project on the lower Yuba River.
Watching the Hallwood Side Channel and Floodplain Restoration Project transform part of the lower Yuba River over the last four years and seeing salmon, steelhead and other species already using the site has been incredible. Equally inspiring was the public-private partnership and creativity of the team that made this restoration possible.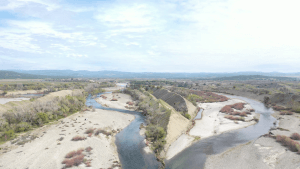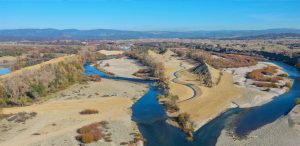 The project removed 3.2 million cubic yards of Gold Rush-era hydraulic mining sediment to make way for new and enhanced habitat for Chinook salmon, Central Valley steelhead trout and other native species. This includes nearly two miles of restored side channels and alcoves and more than six miles of seasonally flooded side channels, where fish can hang out and chow down on some bugs to grow stronger and bigger before embarking on their long journey to the ocean.
By removing all that material, the project also reduces flood risk for Yuba County communities by lowering the river elevation and slowing flows down during high water events.
But the local benefits don't stop there. Much of the material that was removed was used for beneficial projects, including local road paving projects within 24 hours and within 60 miles of the site.
Click below to download the video.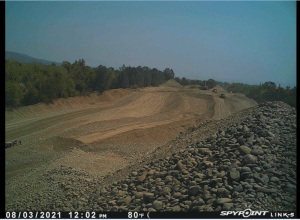 So, how did we do it?
In a word – partnerships. The Hallwood Side Channel and Floodplain Restoration Project was successful because a group of people came together and agreed on a shared vision – restoring some of the lower Yuba River's natural river and floodplain processes to create a healthier, more natural and more productive river.
The creative minds at cbec eco engineering designed the project, with additional partners including South Yuba River Citizens League, Cramer Fish Sciences, Teichert, the Wildlife Conservation Board, California Natural Resources Agency, U.S. Fish and Wildlife and Yuba Water Agency.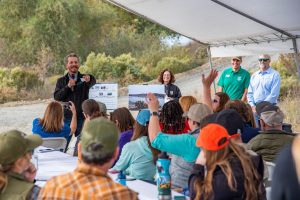 While the total cost of the work was $12 million, including pre- and post-construction monitoring, Teichert provided invaluable support through in-kind aggregate material processing at the site. At last check, we estimated their in-kind support was more than $90 million. Without Teichert on board, the project never would have happened. It would have been unaffordable.
When we talk about the of power public-private partnerships and the need for creative approaches to California's complex natural resource challenges, this is the stuff! This is how we move the needle forward and get the work done.
As I reflect on the success of this project and the commitment of its diverse partners, I'm encouraged for the future of restoration in our watershed. This is the first project of its kind on the Yuba River, but it certainly won't be the last. These 157 acres are just the beginning.
Learn more about the Hallwood Side Channel and Floodplain Restoration Project here.