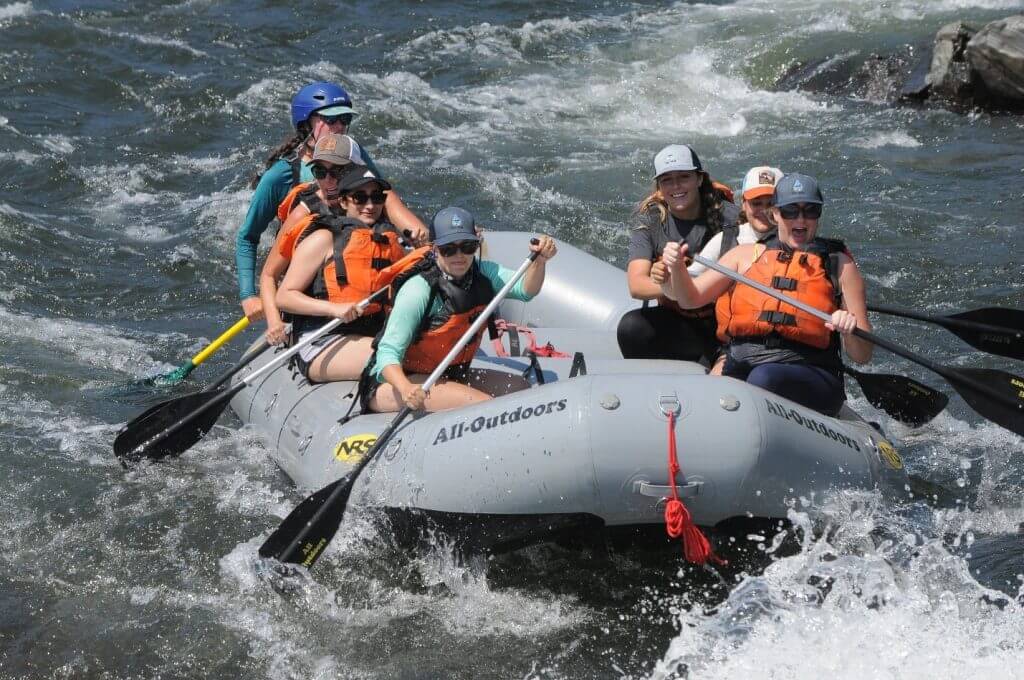 Legislative staff excited as they enter Satan's Cesspool rapid on the South Fork American River.
By Gary Link, NCWA Legislative Affairs Director
"Water is life." Bryce Lundberg, NCWA Annual Meeting, March 2022
Safe clean drinking water, water to nurture life sustaining food for a growing human population, water for wildlife, water for floodplains, water for mountain streams, water in storage for dry years with cold water for fish, water for renewable hydropower, water to recharge aquifers, water to push back Delta salinity, and water for rafting on a warm summer day. These are just some of the ridgetop to river mouth multiple benefits each drop of water provides for us and our environment, one of the primary reasons the water resources managers in Northern California are leaders in multi-benefit water management.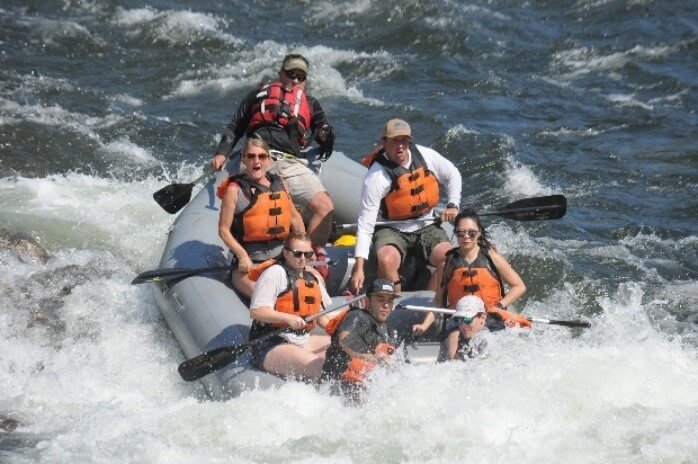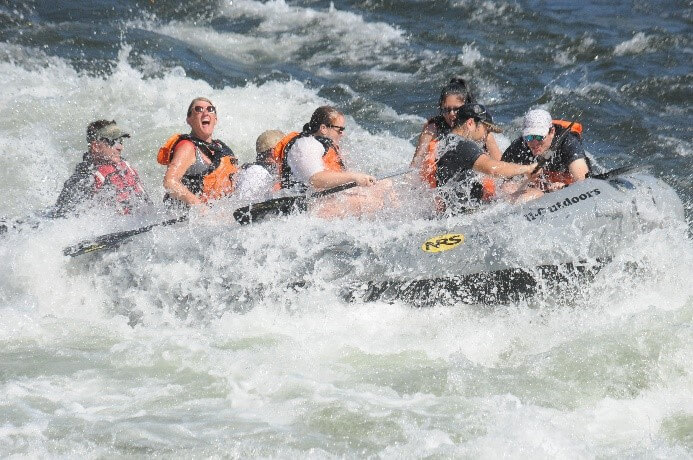 Link guiding Capitol staff into and out of Hospital Bar Rapid. Drenched is the name of the game at Hospital Bar. Healthy forests help sustain functional rivers and beneficial water for humans and wildlife downstream
Headwaters and Healthy Forests
The forests and meadows of the Sierra Nevada, Coast Range, and Cascade Mountains are the source waters for much of the Sacramento River Basin and the State of California. Healthy headwaters ensure increased water supply reliability and reduced flooding risks, improved water quality, reduced impacts from catastrophic wildfires, increased renewable energy supplies, enhanced habitat, and improved response to climate change and extreme weather. Two examples in forest health, Placer County Water Agency is working on their French Meadows Forest Restoration Partnership to ensure healthy forests to regrow wildfire ravaged land and maintain a healthy forest. PCWA is working with federal, state, and local governments as well as other stakeholders to maintain a thriving forest ecosystem. French Meadows are the headwaters for the Middle Fork American River, an amazing river to raft and the Yuba Water Agency's pioneering efforts in forest protection and watershed restoration, including financing these activities through Forest Resilience Bonds. These programs are leading examples of innovative, collaborative, and replicable models for improving forest health.
Capitol staff and their guide Trinity ready for the fun rapids ahead, provided by stored water upstream.
Safe and productive water storage
The Sacramento River Basin provides much of the safe clean drinking water and environmental water for the state. During dry periods like we are now seeing, the value of stored water (both surface and groundwater) becomes very prominent. We have very productive reservoirs of water in the state and are urging the Legislature and the Governor to expedite funding and permitting for Sites Reservoir, to help the state through dry years, including having more cold water saved in Shasta Reservoir for spawning salmon and other beneficial uses. As we work through our third year of drought, history showcases (storage comparison below) the immense need to be collaborative in water use as well as to ensure public safety by funding existing dam safety in budget discussions.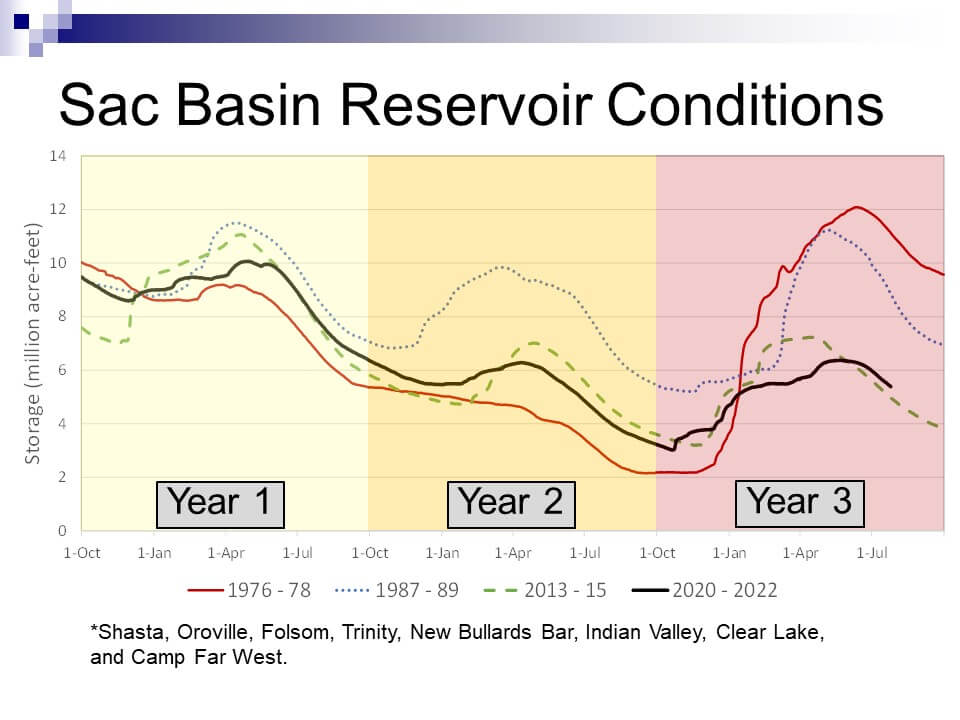 Water, water everywhere…some of this water will make its way to our Central Valley Floodplains benefiting soils, T&E species, other wildlife, and groundwater recharge.
Reactivating Our Floodplains
Our rivers were once connected to our floodplains and wildlife flourished. The Sacramento River Basin is fertile ground for developing a new path forward for water management practices that incorporate best available science and practical know-how of farm, flood and wildlife refuge managers to reactivate the floodplain in a way that provides flood protection for communities, benefits to fish and wildlife, sustains farming, and assists in groundwater recharge. Floodplain reactivation occurs on both the wet-side of the levees (within the current flood protection system, including the river channels and bypasses) and the dryside (in farm fields – primarily winter-flooded, postharvest rice fields – located outside the current flood protection system, but within the historic floodplain). To further advance these efforts, the Floodplain Forward Coalition has developed a Portfolio for Fish and Wildlife to reactivate the floodplain in the Sacramento River Basin. We can reconstitute that ecosystem when interested stakeholders collaborate for the environment and for wildlife.  Ann Hayden, (middle person right side in picture above, wearing a Lundberg Family Farms hat) who is the Associate Vice President, Climate Resilient Water Systems for Environmental Defense Fund has this to say about collaboration and our water: "To adapt to extreme drought and shrinking water supplies, we need everyone: water agencies, environmental and community based organizations, agriculture, and cities to work collaboratively and find common ground on the multi-benefits solutions needed to sustain our most precious natural resource. It's encouraging to see that sort of collaboration coming together in the Sacramento River Basin, which is delivering beneficial outcomes across sectors."
Working together on the river is an example showing how landowners, farmers, NGOs, and the state work together for healthy soils.
Promoting Healthy Soils and Farming
Landowners and conservationists in the Sacramento River Basin are working together to manage farms, ranches, refuges and wetlands to promote healthy soils that benefit agronomic and environmental efforts. The California Department of Food and Agriculture's Healthy Soils Initiative promotes the development of innovative farm and land management practices that contribute to building adequate soil organic matter that can increase carbon sequestration and reduce overall greenhouse gas emissions. There are also various cover crop programs in the Sacramento River Basin that will reduce runoff through improved infiltration (movement of water through the soil surface) and percolation (movement of water through the soil profile). Cover crops also increase soil organic matter, leading to improvements in soil structure, stability, and increased moisture and nutrient holding capacity for plant growth. Many of these examples are seen in the Farming and Conservation Series.
Appearances aren't always what they seem. From the outside it looks like this raft is without a guide and in trouble. But in reality, everyone in the raft is still communicating and working together heading in the right direction. Kind of like how SGMA is being implemented in the Sacramento Valley…working together in the right direction.
Implementing Sustainable Groundwater Management
Groundwater provides nearly 30 percent of the Sacramento Valley's water supplies, with this percentage greatly increasing during dry years and during sustained droughts when less surface water is available. Yet, ongoing conjunctive management of surface water and groundwater has long played an important role in the balanced use of these resources and will continue to play an increasingly important role as groundwater use expands and intensifies in certain parts of the Sacramento River Basin. This dynamic is described in A Pathway for the Future: Sustainable Groundwater Management in the Sacramento Valley.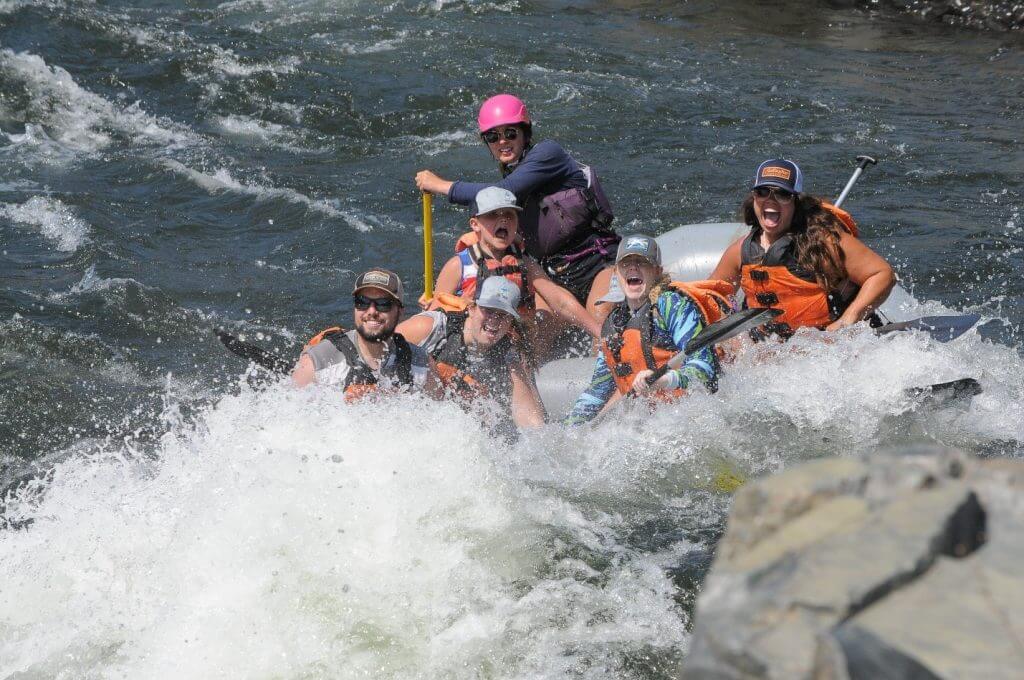 On the river we always watch out for microorganisms in our water, downstream water agencies make sure safe clean drinking water is perfect for a nice refreshing drink of H2O.
Ensuring Access to Safe Drinking Water
There is both an urgent need and an important opportunity to take long-term actions to ensure that all communities in the Sacramento River Basin have access to water that meets the health-based standards of the state and federal Safe Drinking Water Acts. Successful implementation of sustainable drinking water solutions will require utilization of both the policy tools and financial resources available to state agencies as well as the knowledge and expertise of local communities and water managers. By emphasizing partnerships with local agencies and administrators, the state will be best positioned to identify and help implement sustainable, locally-appropriate solutions that addresses the various challenges (i.e., technical, managerial and financial issues) that result in a lack of safe and reliable drinking water for communities. Sacramento River Basin leaders remain committed to advancing a comprehensive approach to expand and ensure access to clean, safe and affordable drinking water for all communities. This approach is described in detail in both Ensuring High Quality Water in the Sacramento River Basin for Communities, Ecosystems, and Farms.  Ensuring Access to Safe Drinking Water.
Rafting requires water, which makes rafters smile. Our fish require water as well, which is why NCWA and its partners are providing necessary water for fish via voluntary habitat restoration and instream flows in addition to pushing expediency of Sites Reservoir so we can save cold water pools in Shasta Lake for migrating fish.
Restoring and Maintaining Vital Streams And Rivers
Our rivers and creeks are the lifeblood of Northern California —serving as drinking water for our communities, vitalizing our economy and ecosystems, and providing opportunities for recreation and play. Holistic, science-based solutions across our landscape, paired with appropriate funding will help to continue restoration and maintenance of these waterways for long term health and vibrancy. Sacramento River Basin water suppliers provide functional and targeted flows that are designed and tailored to restore natural flow functions and the benefits of the interaction between water, sun and the landscape, while balancing the benefits of our flood control and water supply system. This includes existing instream flow arrangements for salmon, as well as spreading water out and slowing it down over the Sacramento River Basin landscape for both economic purposes and for returning fish and birds to habitats that more closely match their natural history. The features of the Sacramento River Basin landscape present exciting possibilities to reestablish the magical connection between water and landscape through functional flows and evolving flow arrangements.
Capitol friends getting in close for the picture, knowing they will be working together all day to ensure a wonderful ride with positive results.
"Water is life" as stated by Mr. Lundberg, yet to ensure water is used beneficially we in the Sacramento Valley seek collaboration, hard work, focusing on science-based results, and providing a cornucopia of life sustaining food and wildlife for our future generations. Water is the prime natural resource to guarantee we have healthy and productive ecosystems from the ridgetop to the river mouth.
If you have other ideas on ridgetop to river mouth water management, please share them with us at info@norcalwater.org.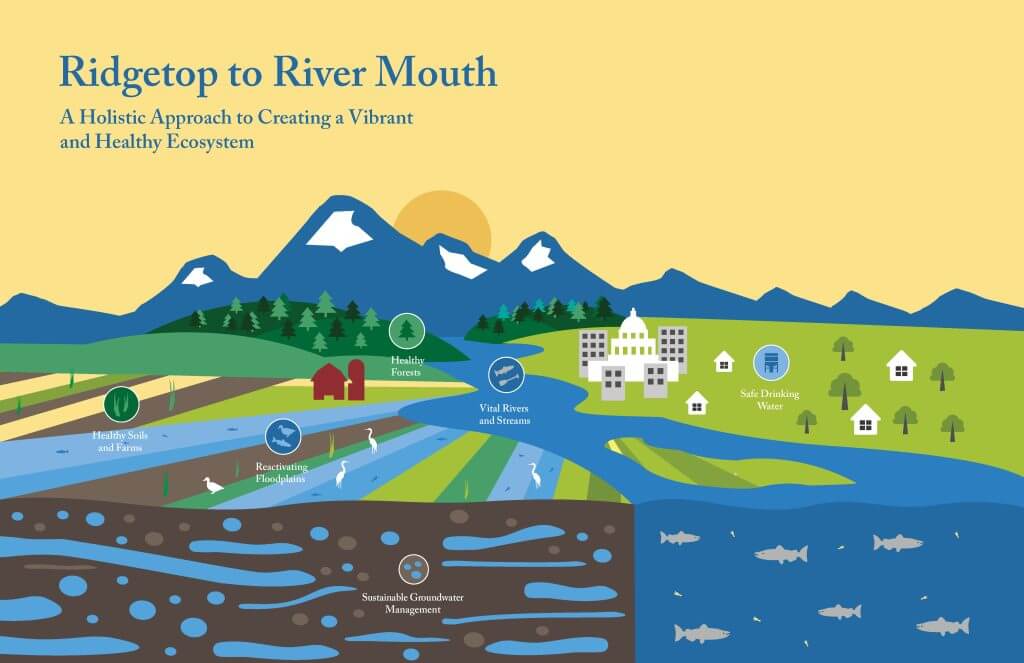 50 Capitol staffers and a couple of their guides, all smiles, all excitement, serious anticipation for experiencing one of the multibeneficial uses of California's water.