By Bruce Houdesheldt
We are pleased to join many others in celebrating Healthy Soils Week and the amazing benefits our soil provides for all Californians! From a water management perspective, healthy soils are an important element of ridgetop to river mouth water management, as soils play a valuable role in improving water filtration, water quality, and resilience to drought. It is estimated by the California Department of Food and Agriculture that healthy soils hold 20 times their weight in water, thus increasing soil organic matter on California's working lands by just 1% could save 1.5 million acre-feet of water per year.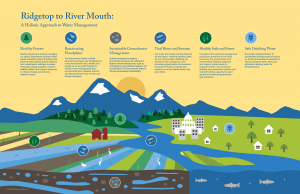 Landowners and conservationists in the Sacramento River Basin are working together to manage farms, ranches, refuges and wetlands to promote healthy soils that benefit agronomic and environmental efforts. Soil health and cover cropping increase the utilization of our lands as natural infrastructure for multiple benefits, a foundational value in the Sacramento River Basin, which supports working landscapes, provides essential benefits for our economy, health and quality of life, including clean water, nutritious food, outdoor recreation, while contributing to the state's climate goals.
As Secretary Karen Ross describes, "this year's Healthy Soils Week theme – Solutions from the Soil: Improving California's Drought Resilience – highlights why it is more important than ever to invest in our soil. Farmers and ranchers are stewards of our soil and are key to solutions to address climate change and achieve carbon neutrality. Implementing healthy soil management provides many co-benefits beyond the crops they harvest and the food on our tables! That's something we can all appreciate."
With the focus by both state and federal leaders on nature-based solutions and increasing biodiversity, we are working with our various partners to explore "Nature-Based Solutions: Enlisting Natural and Working Lands in the Sacramento River Basin in the Fight against Climate Change," a comprehensive efforts in the region to manage land and water from ridgetop down to river mouth to provide multiple benefits as water moves through the region. These efforts, which include forest management, floodplain reactivation, groundwater management and recharge, and healthy soils management, support all beneficial water uses in the region (for cities, farms, fish, birds and other wildlife, hydropower production, and recreation) while also helping to combat climate change.
As examples, the California Rice Commission has developed the "Upland Habitat Nesting Initiative" program to promote cover crops on fallowed rice ground to provide habitat for nesting waterfowl. California State University at Chico, with support from the federal Natural Resources Conservation Service, has a program to help orchard, vineyard, rangeland, dairy, and row crop producers implement Soil Health Management Systems to improve soil function, water infiltration, and availability and protect biodiverse habitats in Northern California's agro-ecosystems.
Healthy soils also contribute to improving the high-quality water enjoyed in the Sacramento Valley as seen in Ensuring High Quality Water in the Sacramento River Basin for Communities, Ecosystems, and Farms. Successful multi-benefit water management focuses on ensuring high-quality water is available for drinking water, aquatic species and the ecosystem, and farming–both now and as we look to the future. For generations the communities and farming families in the Sacramento Valley have cultivated a shared vision for a vibrant way of life throughout the region that depends upon high quality water for all forms of life. These leaders and their families live, work and play in the region and have a direct interest in ensuring high quality water for all these purposes. This approach builds on the culture and strong partnerships in the region with water suppliers, local governments, landowners and conservationists–all working together with state and federal agencies to ensure safe drinking water, healthy aquatic life and reliable water supplies for healthy soils and farms and ranches.
In California, we have the most abundant agricultural bounty in the world, we are graced with a stunning landscape and related natural infrastructure, we have a vast and diverse fish and wildlife population, the 5th largest economy in the world, and people come from near and far to pursue our seemingly endless recreational opportunities. To preserve our special way of life in the North State, water resource managers in the Sacramento River Basin are working together to help manage the regions' water and land resources. By using a nature-based approach from the ridgetop to the river mouth, we provide nourishment and sustenance from the fields, habitats for fish and wildlife, high-quality drinking water, recreation and a special quality of life.
The Sacramento Valley is sourcing our sustainable future through responsible management of the essential resource that millions of birds, hundreds of thousands of fish, thousands of farms and millions of people all rely on–water.
We would welcome your thoughts by contacting me at bruceh@norcalwater.org.