By David Guy
As we reflect on this tumultuous year, we have much to be thankful and a lot to learn. Along with the truly special people that grace our lives, we are all thankful for the Sacramento Valley's unique combination of water, land and sun–the essential ingredients for bountiful life and the amazing biodiversity of our region.
This combination of water, land and sun provides the energy that brings the following to life:
Two million acres of family farms that provide the economic engine for the region through the production of rice, trees, and various row crops that serve as a working landscape and pastoral setting and provide valuable habitat for birds and salmon along the Pacific Flyway.
Seven National Wildlife Refuges, more than fifty state Wildlife Areas and other privately managed wetlands that provide food and safe haven for the annual migration of waterfowl, geese and shore birds in the Pacific Flyway.
The food and safe haven for four runs of salmon, including the endangered winter-run, spring-run, and steelhead.
The forests, meadows and canyons in the watersheds of the Sierra Nevada and Coast Range that serve as the headwaters for our state.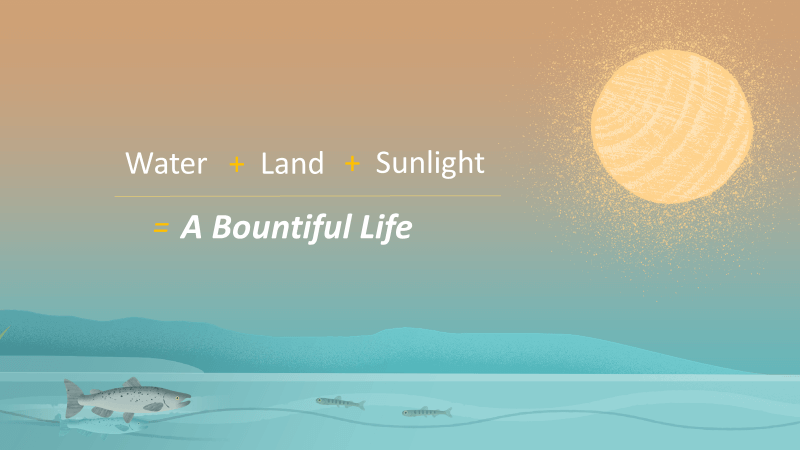 There is much to learn from this simple equation: "Water + Land + Sunlight." In the Sacramento Valley, ridgetop to river mouth water management is dependent upon mobilizing this combination of water, land and sun—and we are listening to and learning from leading scientists in pursuing new ways to develop nature-based solutions that benefit from these essential ingredients to provide climate and water resiliency for this region.In the headwaters, ensuring a healthy balance of water, land and sun is key to the forest health necessary to address wildfires, provide important habitat and ensure clean water for much of California.In the historic floodplains on the Valley floor, farmland (primarily ricelands), wildlife refuges, and the bypasses designed for flood protection can be managed to work together as a nature-based solution for farms, fish and wildlife by recreating the natural functions and ecological productivity of the historic floodplain that existed before the levees and dams, while continuing to provide flood protection for Sacramento and other communities across the Valley.
In all parts of the landscape between the ridgetops and the river mouths, when we are not in flood stage, spreading water out and slowing it down across the landscape mimics the natural system and helps mobilize the special combination of water, land and sun. Practically, this water serves multiple benefits year-round by allowing farmers and ranchers to cultivate crops for humans during the spring and summer, provide habitat for wild birds, reptiles, and other fauna in the fall, and provide food for migratory birds and native fish species in the winter. This holistic water management can bring our ecosystems to life through the careful and considerate interaction of water, sun and land.As we look to 2021 and new ways to advance ridgetop to river mouth water management in the Sacramento River Basin, we are thankful for the true blessings of water, land and sunlight in this region. We welcome new and fresh ideas around how we can more effectively use water, land and sunlight for bountiful life in this region. Please send any ideas to us at: dguy@norcalwater.org.We wish you the best in this holiday season!