By Todd Manley
The Northern California Water Association, working with our conservation partners including Ducks Unlimited, Audubon California, California Waterfowl Association, The Nature Conservancy and the California Rice Commission, have developed a comprehensive accounting of the water needed to maximize Pacific Flyway habitat in the Sacramento Valley.  The document, A Freshwater Ecosystem Budget for Birds and the Pacific Flyway, uses the habitat targets for managed wetlands (both public lands such as National Wildlife Refuges and privately held lands) and ricelands that have been developed in the 2020 Central Valley Joint Venture Implementation Plan to calculate the water needed for each of the land uses to maximize the habitat values for the Flyway in the region.  Also included in the document are descriptions of the sources of water for this habitat and the collaborative process that helps the partners to work together to manage water and land resources for the Pacific Flyway in the Sacramento Valley.
This ecosystem budget is part of a larger effort underway in the Sacramento Valley to develop Freshwater Ecosystem Budgets in the Sacramento River Basin for important ecosystem functions and to advance multi-benefit water management. The Public Policy Institute of California has also done some thoughtful work on ecosystem water budgets.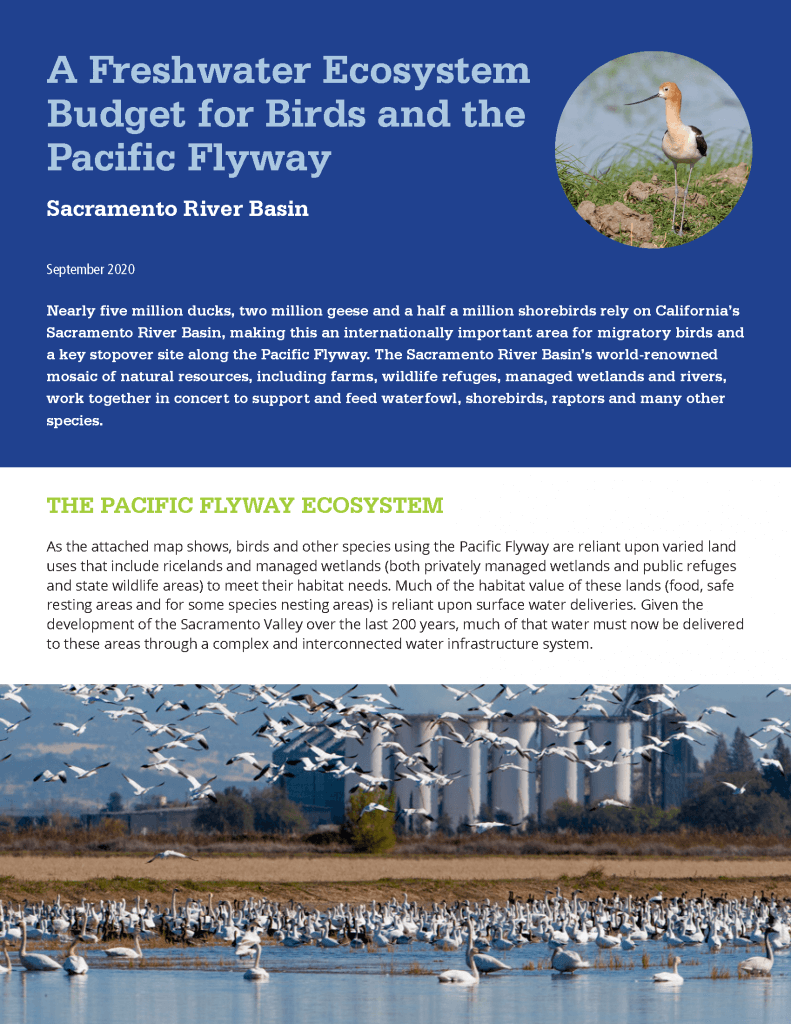 If you have any ideas, thoughts or questions on ecosystem budgets in the Sacramento River Basin, please email me at tmanley@norcalwater.org.