The Northern California Water Association (NCWA) and water leaders in Northern California have appreciated the opportunity to engage with the Newsom Administration and our many partners to help develop and then implement "a water resilience portfolio (portfolio) that meets the needs of California's communities, economy, and environment through the 21st century."
Building on the Governor's call to "position California to meet broad water needs through the 21st Century" there are unique opportunities in the Sacramento River Basin to reimagine our water system and more effectively pursue modern water management to help achieve resiliency.
We have offered the following ideas as a roadmap for resilience we believe will fully support the principles in the Governor's Executive Order and most importantly advance the multiple benefits served by a modern 21st century water management system. Our ideas are summarized in three areas described below.
A Fresh Approach: Managing Water for Multiple Benefits
NCWA and other leaders in the region are advancing actions throughout the Sacramento River Basin consistent with the Executive Order's principles to foster "regional approach among water users sharing watersheds" and prioritizing "multi-benefit water management approaches that meet multiple needs at once," which includes cities, farms, fish, birds, other wildlife, hydropower and recreation.
Policy Priorities: A Roadmap for Resilience
We offer five priority areas from our vantage in the Sacramento River Basin. In arriving at these priorities, we focused on areas that show great promise for the future of California and can immediately add value to California's current water system. This includes:
1) Ensure Access to Safe Drinking Water
2) Enhance and Expand Utilization of Natural Infrastructure for Multiple Benefits
     • This includes Reactivating our Floodplains, Forest Health and Groundwater Recharge
3) Advance 21st Century Water Infrastructure for Multiple Benefits
    • This includes Sites Reservoir, Delta Conveyance and New Technologies
4) Create Freshwater Ecosystem Budgets
5) Facilitate Water Transfers
A New Business Model: Replacing Old Binaries with Partnerships and Collaboration to Fix Problems
To help advance the five policy priorities, we think there are opportunities to build upon knowledge gained from recent experiences and pursue a different business model to help California advance a water resilience portfolio. This includes the following ideas:
1) Fix rather than fight—The importance of voluntary agreements
2) Embrace a new culture of partnerships
3) Secure funding to advance the portfolio
For more details on all of these ideas, please click on the document below.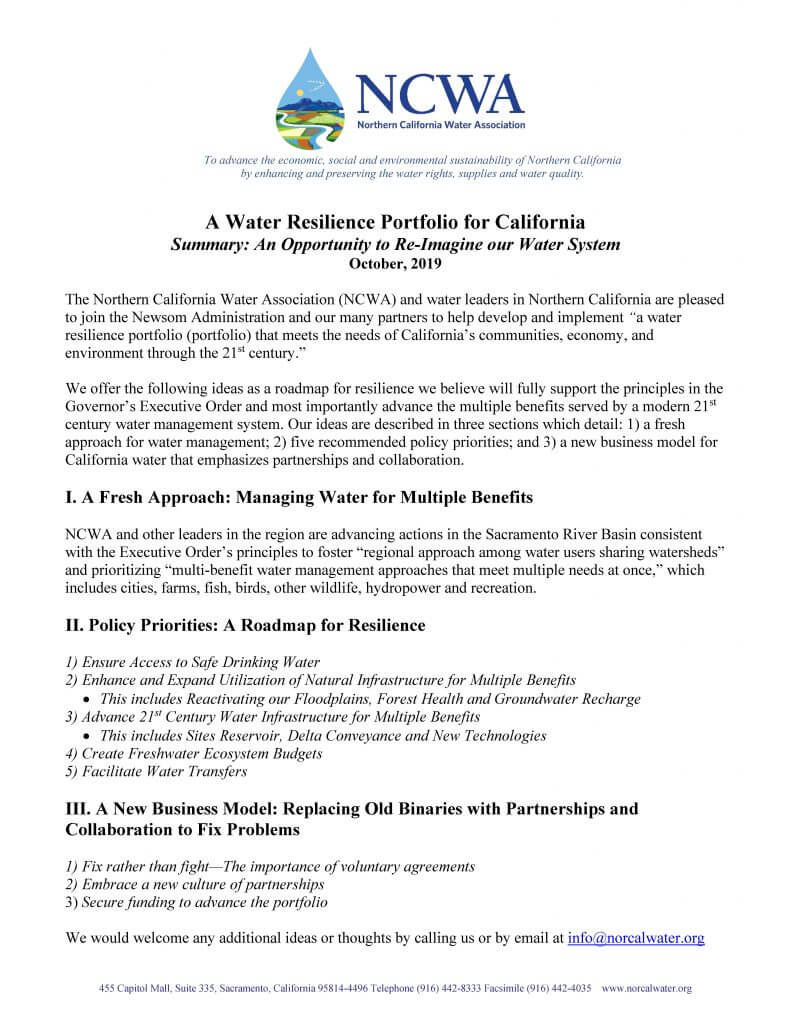 This is the final blog as part of a series that presents our ideas on the critical elements for a water resilience portfolio from a Sacramento River Basin perspective. Through this series, we are seeking your thoughts and ideas (see below) that will help the Sacramento River Basin provide meaningful contributions to the water resilience portfolio and the actions that will help advance a 21st Century water management system for California. We use the principles in the Governor's Executive Order as the starting point for our discussions and offer these ideas as a roadmap for resilience we believe will add value to California's water management system. We welcome additional ideas and thoughts to make these contributions more effective. Please provide any thoughts or ideas to info@norcalwater.org.