The Northern California Water Association (NCWA) and water leaders in Northern California have appreciated the opportunity to engage with the Newsom Administration and our many partners to help develop and then implement "a water resilience portfolio (portfolio) that meets the needs of California's communities, economy, and environment through the 21st century."
Building on the Governor's call to "encourage regional approaches among water users sharing watersheds," there are unique opportunities in the Sacramento River Basin to more effectively integrate ecosystem water budgets into our multi-benefit water management approaches.
Local and regional water agencies in California will continue to undertake programs and actions to help prepare for extreme weather and the inevitable dry periods (see Planning for a Dry Year). In the Sacramento River Basin, we have learned from recent experience that planning in advance to further develop and refine freshwater ecosystem budgets will be essential to serving water for multiple beneficial uses, particularly during drier years. Freshwater ecosystem budgets offer a new approach to integrate environmental water management into our water system to provide specific, targeted benefits rather than the old model of constraining water rights during critical periods with the hope that this action alone will save species. This approach, in turn, will allow us to work collaboratively to evolve from reactive efforts to prevent species decline into a more proactive program to actively promote species recovery in a more comprehensive manner.
For more details, please click on the document below.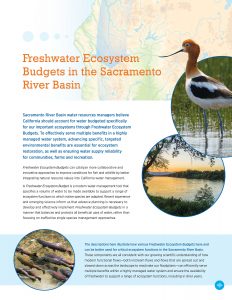 Our blog on ecosystem water budgets is part of a series that presents our ideas on the critical elements for a water resilience portfolio from a Sacramento River Basin perspective. Through this series, we are seeking your thoughts and ideas (see below) that will help the Sacramento River Basin provide meaningful contributions to the water resilience portfolio and the actions that will help advance a 21st Century water management system for California. We use the principles in the Governor's Executive Order as the starting point for our discussions and offer these ideas as a roadmap for resilience we believe will add value to California's water management system. We welcome additional ideas and thoughts to make these contributions more effective. Please provide any thoughts or ideas to info@norcalwater.org.