The Northern California Water Association (NCWA) and water leaders in Northern California have appreciated the opportunity to engage with the Newsom Administration and our many partners to help develop and then implement "a water resilience portfolio (portfolio) that meets the needs of California's communities, economy, and environment through the 21st century."
Building on the Governor's call to "utilize natural infrastructure," there are unique opportunities in the Sacramento River Basin to enhance and expand utilization of natural infrastructure for multiple benefits such as "forests and floodplains," as well as advancing "groundwater recharge" to help with sustainable groundwater management.
With respect to floodplains, the Sacramento River Basin is fertile ground for developing a new path to reactivate our floodplains as a new way forward. This approach will protect public safety and integrate best available science about how river ecosystem's function with the practical know-how of farm, flood and wildlife refuge managers. Implementing these dynamic conservation strategies will build climate resiliency in California's ecosystems and water systems by sustaining the abundant return of migratory birds along the Pacific Flyway; revitalizing river food webs and supporting the recovery of salmon and other fish populations; recharging groundwater aquifers; and improving flood protection in an era of increasing storm severity and a changing climate.
For more details, please click on the document below.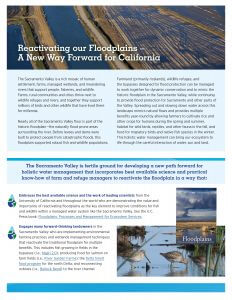 Our blog on natural infrastructure, such as reactivating floodplains, is part of a series that presents our ideas on the critical elements for a water resilience portfolio from a Sacramento River Basin perspective. Through this series, we are seeking your thoughts and ideas (see below) that will help the Sacramento River Basin provide meaningful contributions to the water resilience portfolio and the actions that will help advance a 21st Century water management system for California. We use the principles in the Governor's Executive Order as the starting point for our discussions and offer these ideas as a roadmap for resilience we believe will add value to California's water management system. We welcome additional ideas and thoughts to make these contributions more effective. Please provide any thoughts or ideas to info@norcalwater.org.