By John Kingsbury, Executive Director
Mountain Counties Water Resources Association (MCWRA)
Proposition 3, the "Water Supply and Water Quality Act of 2018," is a water bond initiative that will appear on the November 2018 statewide California ballot.  Proposition 3 would invest 8.877 billion dollars funding projects to enhance water supply and water quality, watershed restoration, fish & wildlife habitat, water infrastructure, groundwater sustainability, and storage.  That all sounds good, doesn't it?  But this is California, and some say, "Not another water bond!" Some may believe that it is just another means for state politicians to get their hands on more money for the general fund to squander away on programs other than water.  "Send the money to Sacramento, never to return," comes to mind here in the Mountain Counties region.
Northern California's watersheds provide over 60 percent of the developed water supply for the entire State.  However, there has always been a lack of recognition and investment by the legislature to protect, restore, and enhance this vital natural resource.  The lack of investment in the headwaters of California is obvious.  A case in point–Proposition 1 was developed by the Legislature and approved by voters in 2014 for 7.12 billion dollars.  It allocated a meager $25 million to the Sierra Nevada Conservancy and $13 million for the Mountain Counties overlay area. Those advocating for significant funding to restore Sierra watersheds and to enhance water certainty for all of California were disheartened to learn that the legislature had other interests and failed to recognize the value of the Sierra Nevada Watershed.
Proposition 3, a voter driven initiative, is a broad bond measure, focused on water, and is a worthy step forward. It has earmarked, albeit small, more funding for the mountain counties region than any previous bond measure.  While some may think Proposition 3 is just tossing northern California a bone, the Mountain Counties Water Resources Association (MCWRA) Board of Directors unanimously endorses this ballot initiative.  Proposition 3 leverages statewide funding, which saves our local tax dollars for regional benefits, including funding for federal lands in the watershed.
Specifically, Proposition 3 includes:
$100 million – CalFire and Sierra Nevada Conservancy for watershed restoration after fires (federal lands are eligible)
$200 million – Sierra Nevada Conservancy for watershed improvement, including dead tree removal and fire preparation (federal lands are eligible)
$750 million – Safe Drinking Water and Wastewater disposal for rural, small and disadvantaged communities
$150 million – Central Valley Flood Plan Implementation
$100 million – Lake Tahoe Stormwater Management, sediment control, wetlands restoration
$60 million – Grants to Resource Conservation Districts and agricultural land protection
$100 million – Weed reduction and other land treatment for water conservation
$640 million – Groundwater: Sustainable Groundwater Management Act (SGMA) Implementation
$5 million – Integrated Regional Water Management Coordination
There is an enormous financial burden to rebuild the State's aging complex water system and to help improve our environment from one end of the State to the other. If passed by the voters, Proposition 3 will send a message to water leaders that water infrastructure investments are important.  The next water bond, and there will be one, should explicitly focus on the Sierra Nevada and Cascade watersheds to restore vital headwaters critical for a sustainable supply of high-quality water for all of California.  Call it "The Fire and Water Bond of 2020."
For these reasons, the MCWRA Board endorses Proposition 3. For more information, see mountaincountieswater.com.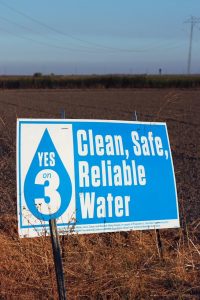 More Proposition 3 Blogs:
Proposition 3 is Good for Birds and Makes Important Investments for the Pacific Flyway
Proposition 3 Makes Important Investments in Sustainable Groundwater Management in California
Proposition 3 Will Invest in Improved Flood Protection Projects that Provide Multiple Benefits
Proposition 3 Includes Unprecedented Investments to Promote Salmon Recovery