In November, California voters will have the opportunity to pass Proposition 3, the largest environmental habitat and water bond in California's history.  Proposition 3 will make significant investments to help serve water for multiple benefits in the Sacramento Valley and throughout California.  Investment in salmon recovery is a common theme in the bond, with many of the environmental sections either directing funding to salmon projects or including them in the list of eligible habitat projects that could receive funding.  Specifically, the bond includes the following funding allocations for salmon recovery efforts:
$300 million for habitat improvements for species including anadromous fish
$400 million for the "restoration of Central Valley populations of native fish and fisheries habitat," including:

$35 million for restoring rivers and floodplain reconnection
$7 million for fish restoration on the Feather River.
$300 million for coastal and Central Valley salmon and steelhead fisheries recovery, including:

$100 million to improve fish passage and salmon habitat in the Sacramento Valley
$100 million to install fish screens on high priority diversions

$10 million for habitat projects on the American River
$200 million to the Central Valley Flood Protection Board for "environmental enhancement" of fish and wildlife habitat in flood control facilities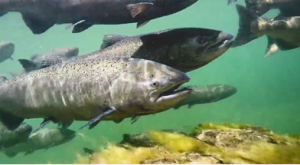 In addition, the "Findings and Declarations" chapter in Proposition 3 includes the following statements:
"The State Water Resources Control Board, the Department of Fish and Wildlife, and many other agencies have recognized that providing funding for fish habitat enhancements is vital to restoring native California fish populations, and that relying solely on flow to restore those populations will not be sufficient. Providing funding for fish habitat enhancement is a vital complement to reasonable flows to protect fish."
"Fisheries Restoration.  This division provides hundreds of millions of dollars for fisheries restoration.  Local and regional water agencies are voluntarily undertaking many of these projects.  By providing state funds, this division will reduce local costs.  In addition, the resulting increase in fish populations will make it possible to improve local water supplies, avoiding local government costs to provide replacement water supplies costing hundreds of millions or even billions of dollars."
"California has lost ninety-five percent (95%) of its historical wetlands. These wetlands provide food, water and cover for migratory and other birds, fish, mammals, reptiles, amphibians and a vast number of plant species.  Many species may become endangered or threatened without wetlands and many more survive only due to wetlands available today."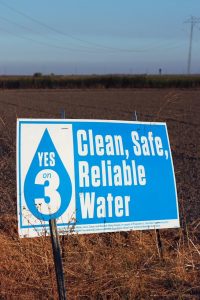 Proposition 3's intent and funding complements the efforts underway with the Sacramento Valley Salmon Recovery Program to implement projects, programs and studies to promote salmon recovery in the region.
We urge voters to support Proposition 3 on the November 6 ballot.  For more information, see "Yes on 3."  NCWA will be offering a series of bogs over the next several weeks highlighting the important investments in Proposition 3 and how water serves multiple benefits in the Sacramento Valley.
More Proposition 3 Blogs:
Proposition 3 is Good for Birds and Makes Important Investments for the Pacific Flyway
Proposition 3 Makes Important Investments in Sustainable Groundwater Management in California
Proposition 3 Will Invest in Improved Flood Protection Projects that Provide Multiple Benefits