By: Ryan Teubert, CFM, Tehama County Flood Control & Water Resources Manager
 The Tehama County Flood Control & Water Conservation District (District) has taken the lead on monitoring and managing groundwater resources within Tehama County (County) since the mid-1990s. The District currently monitors eight multi-completion wells throughout the County and provides the data to the California Statewide Groundwater Elevation Monitoring (CASGEM) program, as well as posting it on the District's website at: Tehama County Public Works. The California Department of Water Resources also monitors an additional 36 wells throughout the County.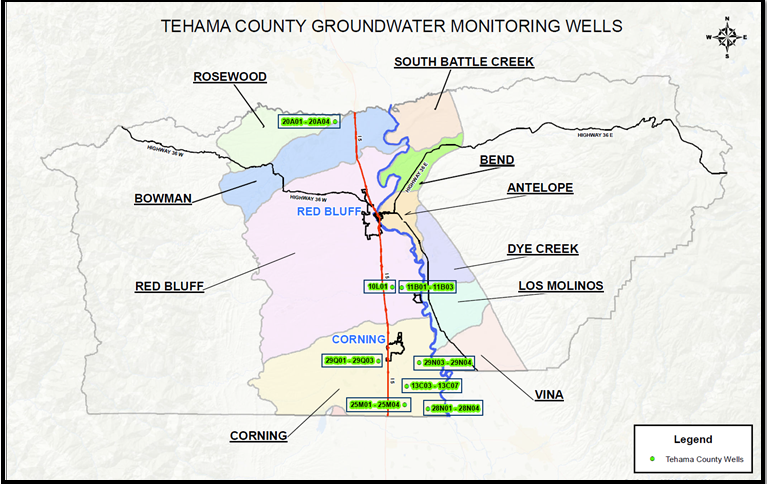 The District currently has portions of ten sub-basins located within its jurisdiction. The three sub-basins located in the northern part of the County are within the Redding Groundwater Basin, while the remaining seven sub-basins are located in the Sacramento Valley Groundwater Basin as defined by DWR. The District was recognized as the exclusive Groundwater Sustainability Agency in 2016 for all portions of the ten sub-basins located within the County.
For a snapshot of the County, the Redding Groundwater Basin is an extremely healthy aquifer and has had only minimal draw-downs during the recent drought. The hydrograph below shows a multi-completion well within this basin, where you can see the minor draw-down during the drought and the full recovery experienced after the wet spring of 2017.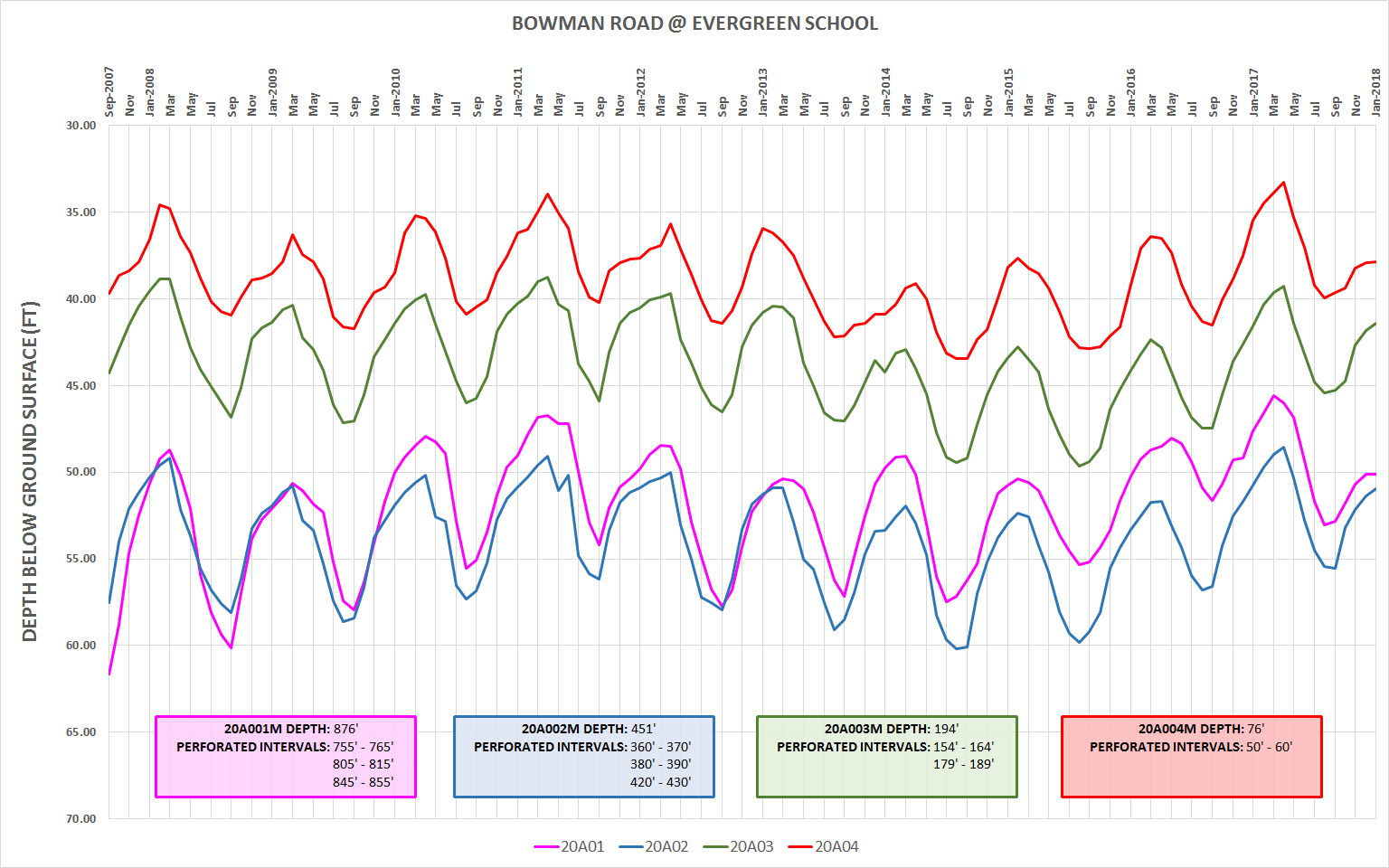 The portions of the Sacramento Groundwater Basin that are in Tehama County and either close to or east of the Sacramento River did fairly well through the drought as well. The maps below show that these sub-basins generally experienced only minimal draw-downs from 2011-2016 (left), and that they mostly recovered during the wet period between 2016-2017 (right). The sub-basins east of the Sacramento River benefit from users having access to surface water supplies along with being recharged from streams fed by the Cascade Mountain Range and the Sacramento River.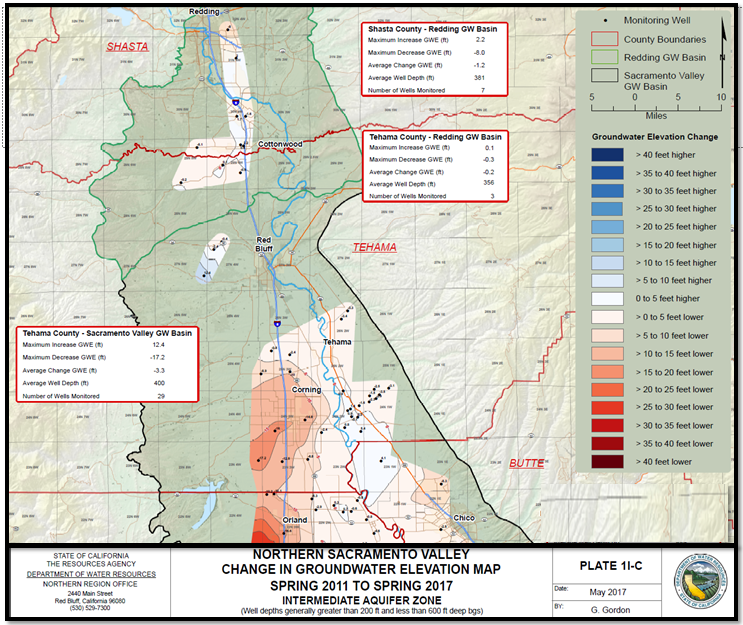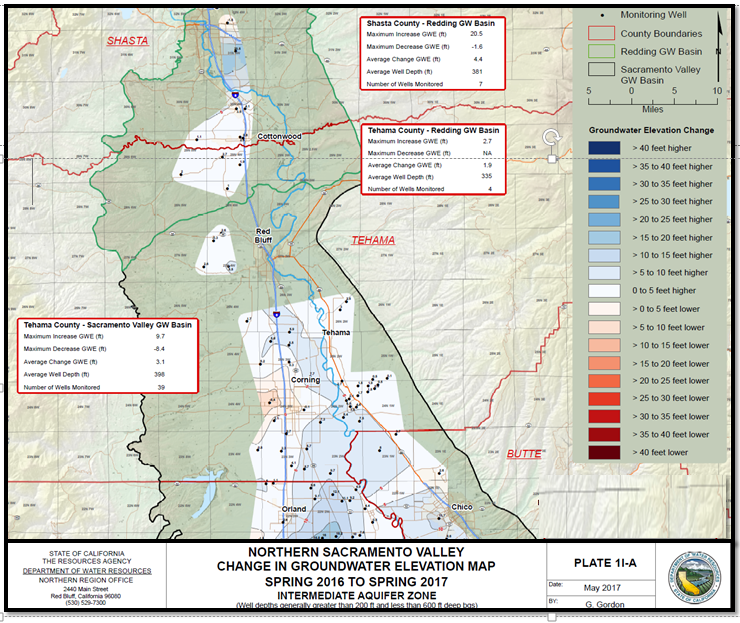 The areas in the southwestern portion of the County have experienced increased draw-downs during the recent drought, similar to what has occurred along the western portion of both Glenn and Colusa counties. The draw-down in Tehama County is likely due to several reasons, including the recent drought, a change in agricultural crop type and irrigation methods, surface water curtailments, less recharge potential from the eastern slopes of the Coastal Range and geologic conditions. As shown on the graph below, this area did experience an increase in groundwater levels after the record setting precipitation of 2017. Although this was a welcome change, record precipitation levels can't be counted on to alleviate this issue.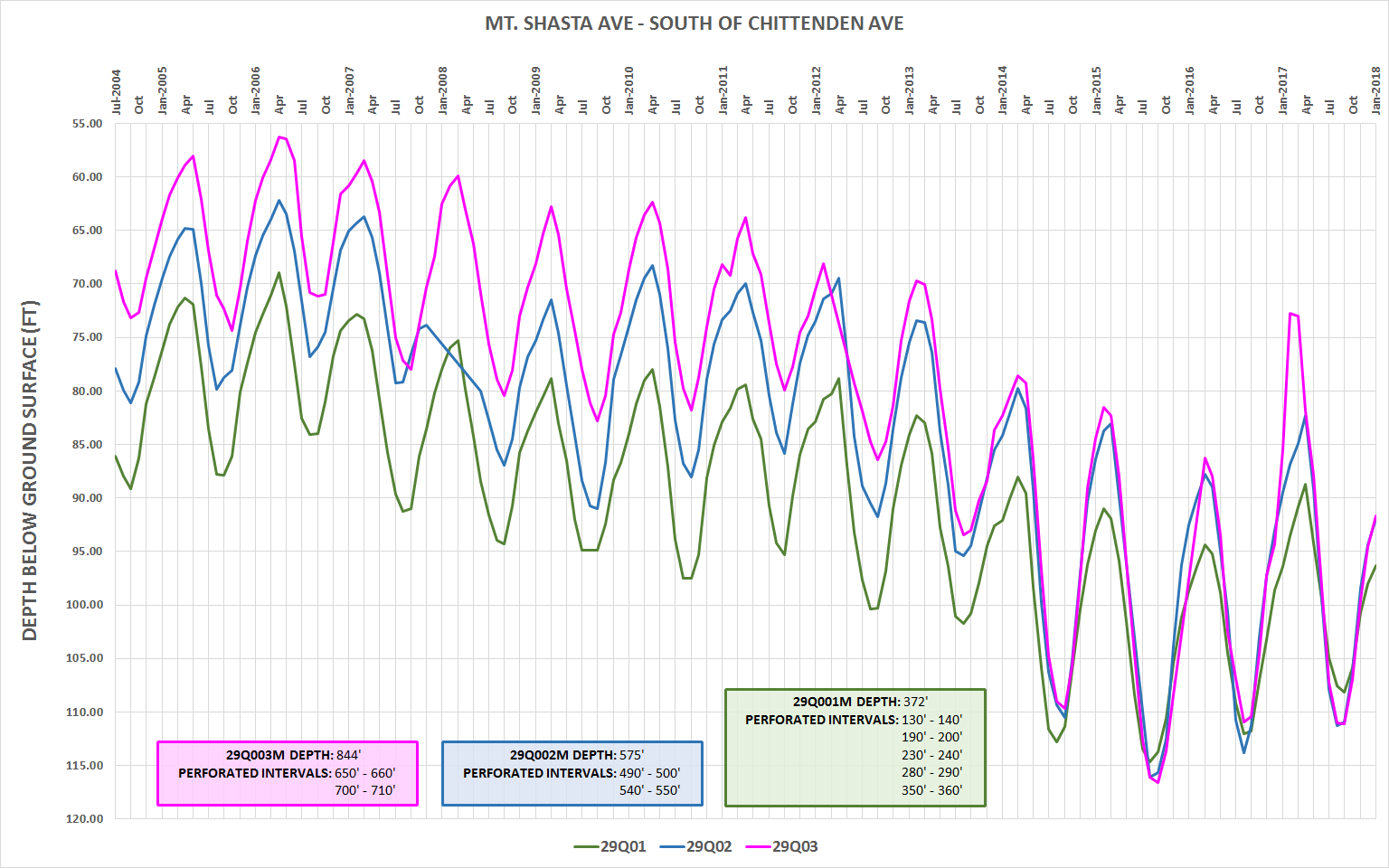 The Tehama County GSA is committed to the sustainable management of the numerous groundwater sub-basins located within the District. This includes coordinating with surrounding GSAs and DWR to develop a comprehensive monitoring program and Groundwater Sustainability Plans that will assist local agencies with making informed decisions that will further the sustainable management of the region's groundwater resources.