By Jacob Katz, PhD., Senior Scientist, CalTrout



It was great to be on the banks of Butte Creek last week celebrating the success of a collaborative effort to create a working landscape for fish, birds and people.
There are many lessons to draw from the success of Butte Creek restoration efforts; the galvanizing power of diverse partnerships is definitely a big one.
Another is that Butte Creek fish on their way downstream pass right through the Butte Sink/Sutter Bypass, which essentially is the last functioning large wetland floodplain system in the Central Valley.  The lesson being that, Butte Creek fish can depend on getting something to eat on their journey to sea. The images below of massive Sutter Bypass salmon smolts dramatically show how access to the Butte Sink/Sutter Bypass the floodplain food factory benefits these fortunate fish whose resulting large size and fat reserves will increase their chance of returning as adults many fold.

This functioning floodplain at the bottom of the watershed makes Butte Creek unique. A chain is only as strong as its weakest link.  It is hard to over-estimate this part: Butte Creek is the only major stream that currently contains all necessary habitat types needed to complete all freshwater life stages of salmon. When the restoration effort addressed the passage, entrainment and flow issues, Butte Creek became the only watershed in the Valley to have every link in the habitat chain intact. And when that happened, the fish population responded.  Quickly and robustly.  This makes Butte Creek a shining light of hope for the Sacramento Valley.
Taking heed of these valuable lessons should allow us to replicate and export that success throughout the Valley!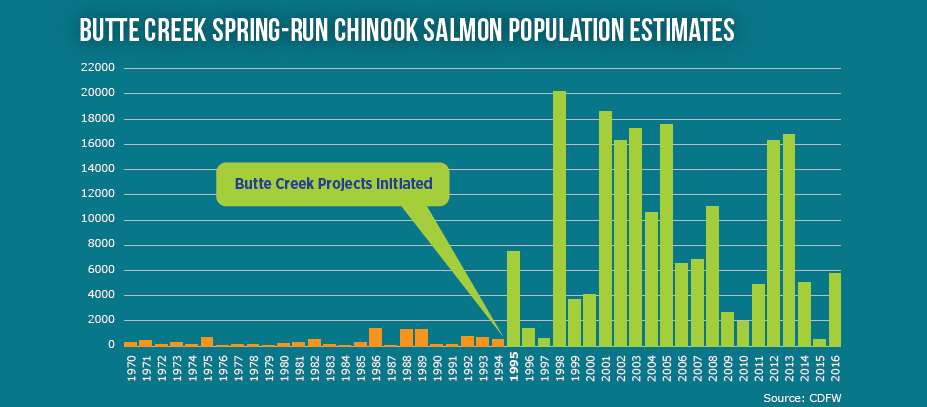 For supporting references, see:
Last week PLOS ONE published "Floodplain farm fields provide novel rearing habitat for Chinook salmon". The peer-reviewed scientific paper reports the results of the 2012 pilot study at Knaggs Ranch in Yolo Bypass.  I hope this scientific paper will be useful as we continue to work together to integrate floodplain habitats and food web productivity in the management of California river systems. You can click the title to go to the open access on-line version.
"Zooplankton ecology and trophic resources for rearing native fish on an agricultural floodplain in the Yolo Bypass California, USA" was published earlier this year in the journal Wetlands Ecology and Management and reported results from one of our 2013 experiments.  Notably, the paper reports zooplankton densities 300,000% greater on the Yolo Bypass floodplain than in the adjacent Sacramento River channel.
Our collaborative floodplain science team (CalTrout, UCD Center for Watershed Sciences, DWR, DFW, NMFS, NCWA, MET, SLDMWA, the California Rice Commission, River Garden Farms, RD 108, GCID and many growers and private land owners among many others) continues to expand the scope of our research. At the same time that we are working to publish several other scientific articles reporting subsequent year's research on aquatic food web productivity and fish use of floodplains. Please stay tuned for the publication of these studies as well.