With the Sacramento Valley in flood stage early this year, the California Department of Water Resources has estimated that by mid-February Sites Reservoir could have stored over 1 million acre-feet of water (over 325 billion gallons) this water year.
The Sites Reservoir—a modern off-stream reservoir in Northern California—captures and stores runoff supplies for use in dry and critical years, allows other reservoirs to hold more water into the summer months, provides water for fish, birds, farms and cities, increases flood management opportunities and supports groundwater recharge.
California needs long-term solutions that help save water for California's future. As shown below, Sites Reservoir will work well in all year types.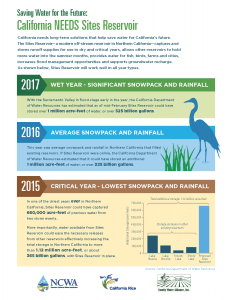 Saving Water for the Future: California Needs Sites Reservoir.
Earlier this month, Congressmen LaMalfa and Garamendi introduced H.R. 1269 to assist Sites Reservoir. With the announcement, NCWA Chairman Bryce Lundberg urged support for the measure. "This bipartisan effort advances progressive and modern water management—an important step forward for California. The recent transition between very wet and very dry years in the Sacramento Valley is a powerful reminder that we need water storage to protect people in wet years and to serve various beneficial purposes in dry years, including cities and rural communities, farms, fish, birds and recreation. An off-stream regulating reservoir on the west-side of the Sacramento Valley (Sites) is critical for all these important purposes in the Sacramento Valley, as well as providing statewide water system operational improvements."
The Congressmen's news releases are at:
LaMalfa and Garamendi Introduce Legislation to Facilitate Funding of Sites Reservoir. 
Northern California Representatives Introduce Bill to Facilitate Construction of Sites Reservoir.